Planning a Trip to Katsuura, Chiba
Following the last post where we traveled the fisherman's town of Katsuura for its fresh Bonitos, abalones and more seafood, today I am going to put down my knives and pick up my camera for a photo shoot!
The Katsuura actually belongs to the Boso-hill area, as the very east end of the Fossa Magna, a Graben that separates Japan into the eastern and western halves geographically, this is an area of vigorous geological activities. The Boso hills is formed when seabed sediments are pushed up during one of these events. Being so, the cliffs are of complex geological composition, and only thanks to that, sea caves and pockets can be formed to harbor all the delicious seafood that we not enjoy! Naturally, eroded landscapes are photogenic as always and are truly worth a day or two, or three! To capture onto film, or eh, sensor...

Tomisaki Shrine【遠見岬神社】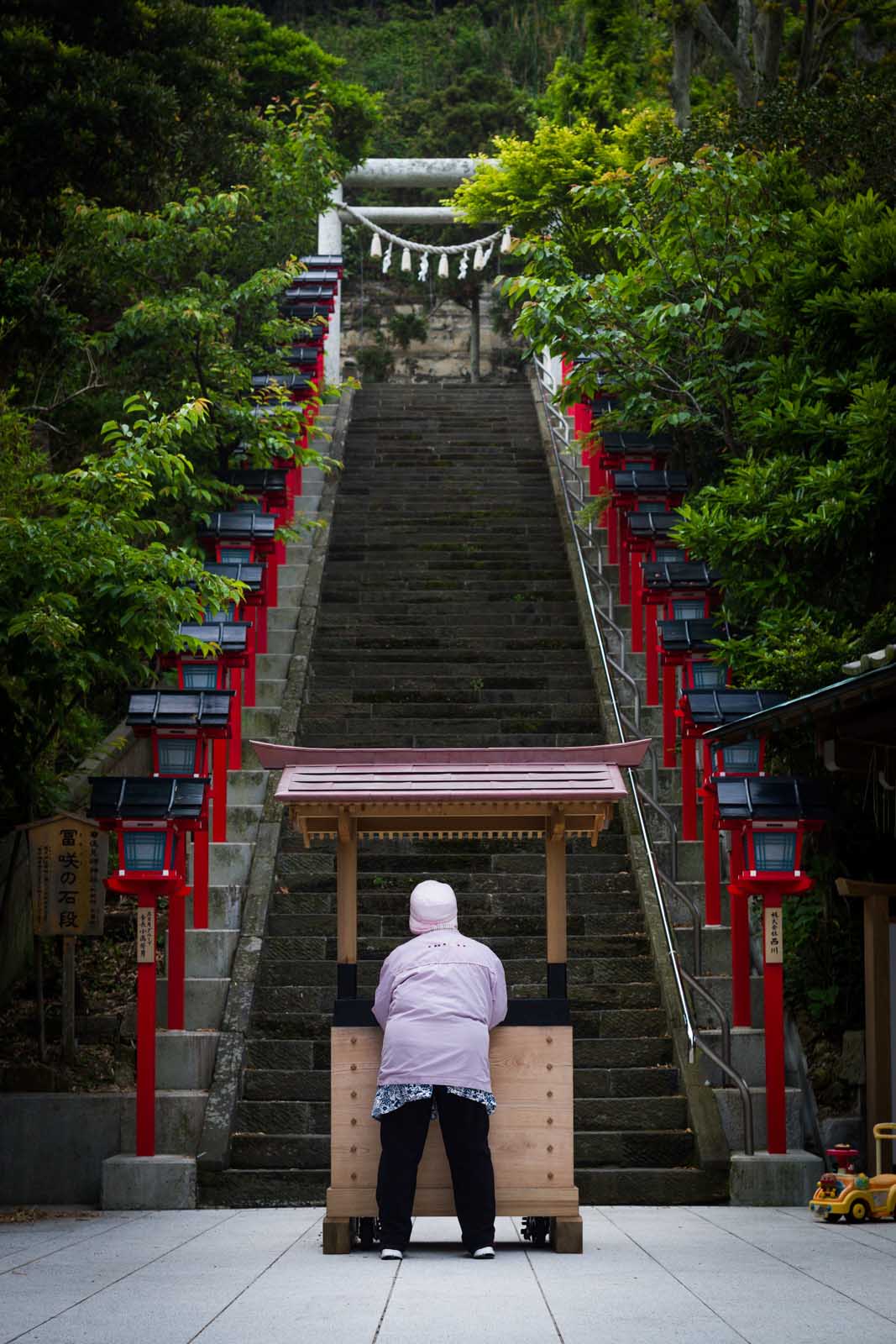 Before heading out we first visited the morning market again, local children can be seen playing in the Tomisaki shrine right next to the morning market. In Tokyo and other big cities, it is common to see that Shrines are now devoid of local people outside celebration days. However in rural shrines like this one, I feel that the soul of shrines live on, they are meant to be both sacred and lively.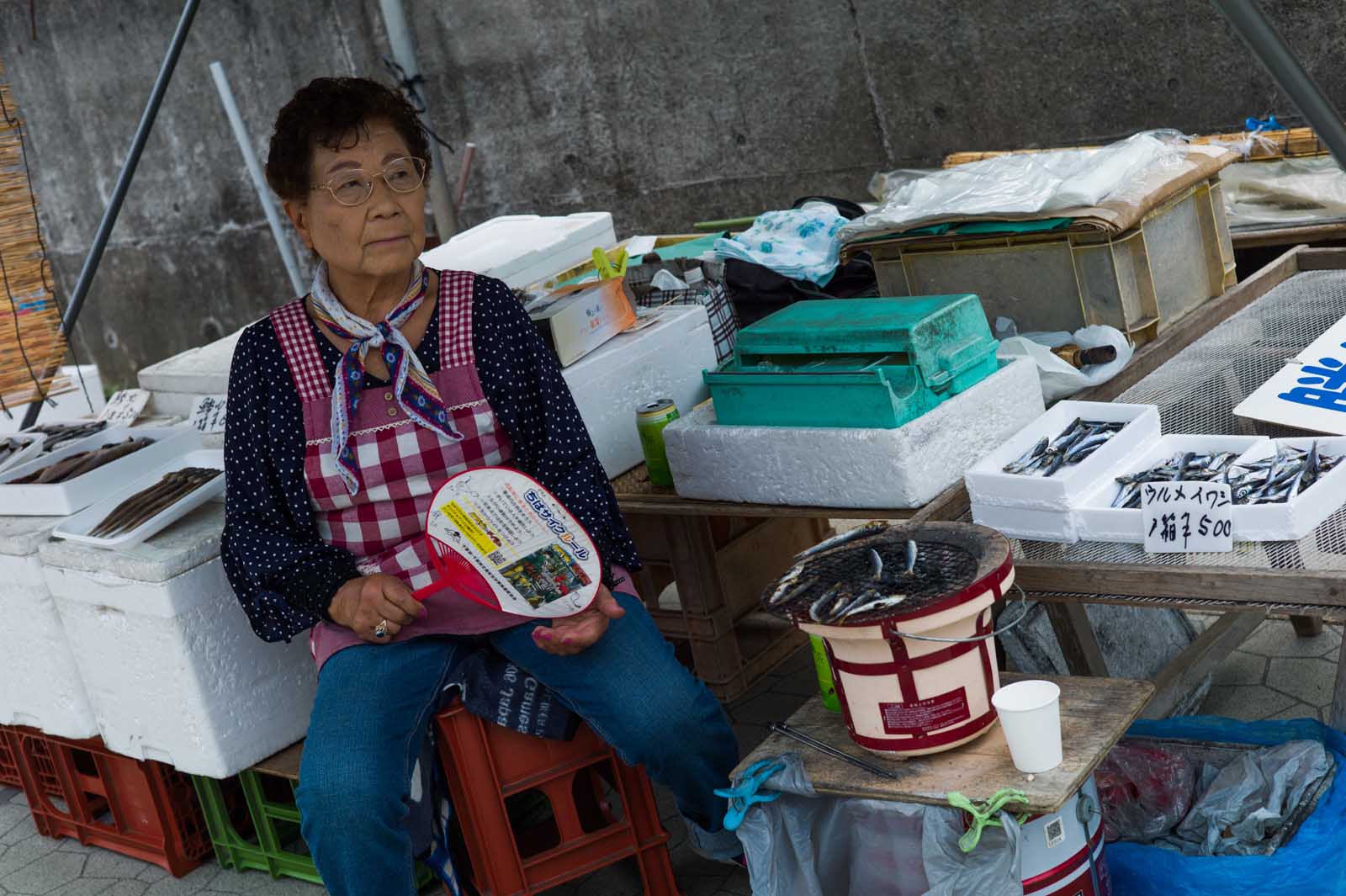 This old women who was selling Bonito next to the entrance says her daily prayer.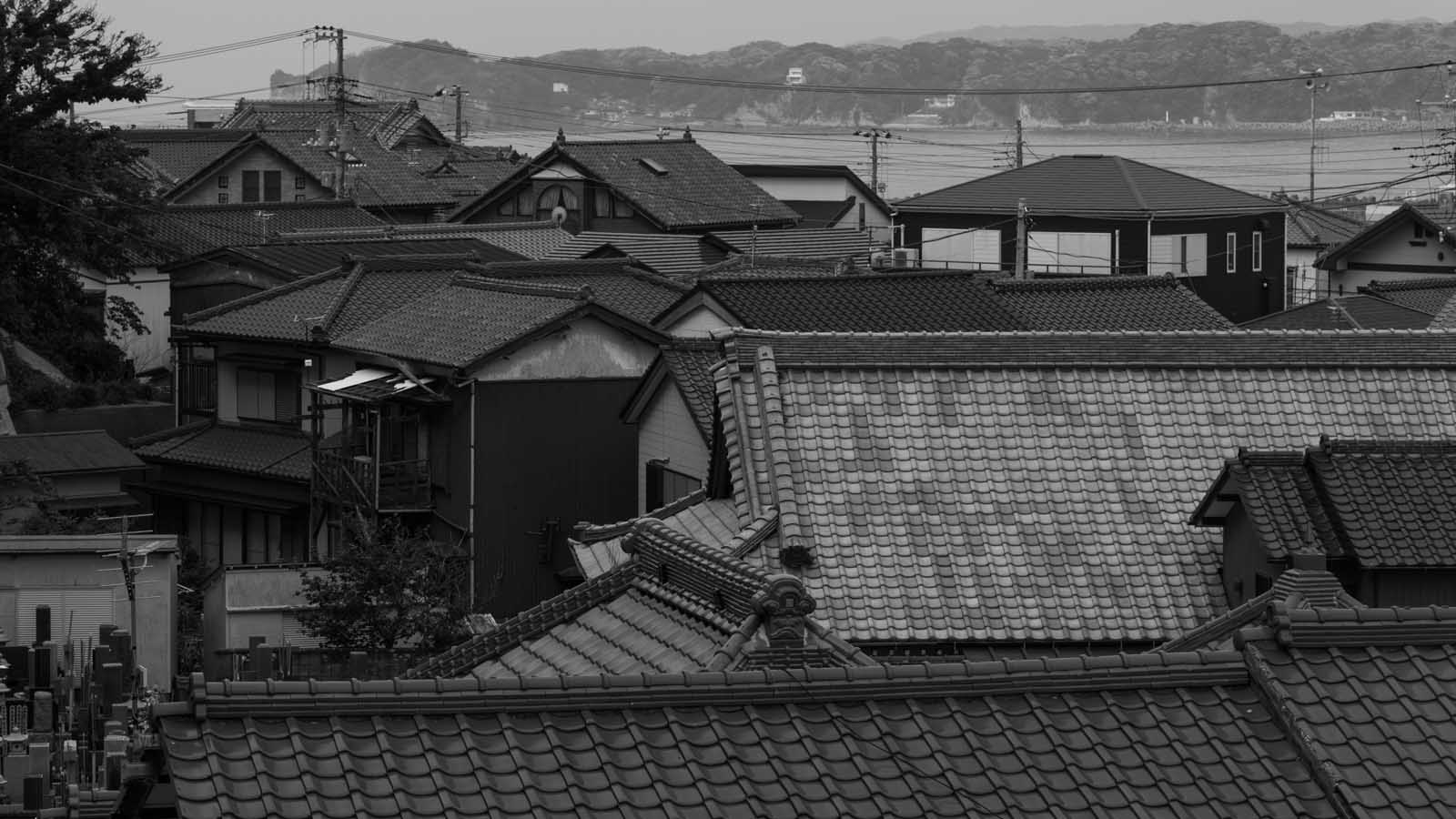 The main shrine is built atop a small rocky hill, connected to the morning Market by a long stairs known as the Tomisaki No Ishidan (Tomisaki Stairs), up this stairs is the Inari Shrine of the fox god that blesses agriculture. You can also enjoy the sea breeze and a beautiful view of the town below.
Walking up the Tomisaki Stairs is said to bring luck, happiness and prosperity.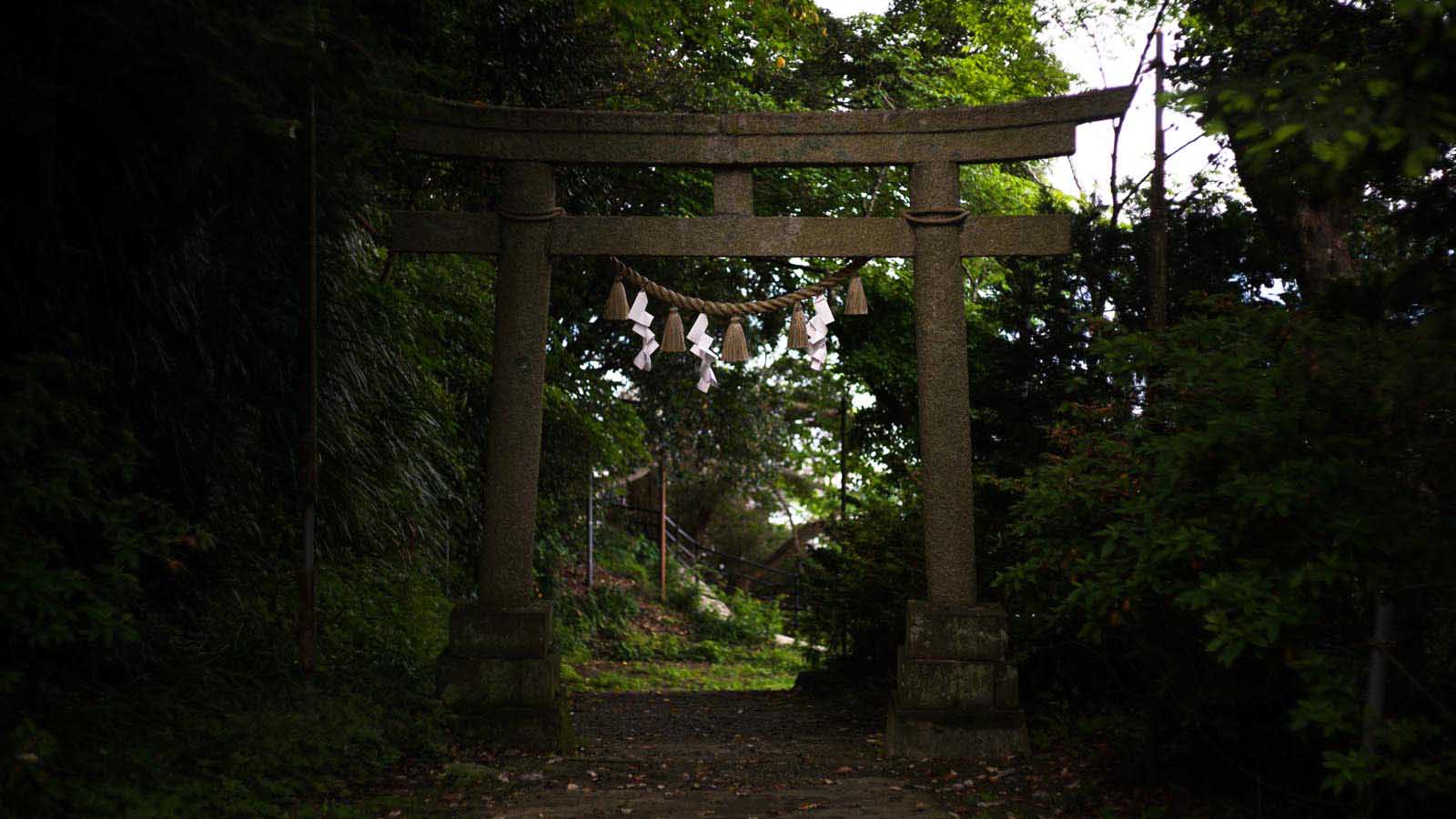 The stone Torii at the entrance to the main shrine, looking mysterious.
Tomisaki【遠見岬神社】 may not be a huge Shrine but certainly a very old one. It is the shrine devoted to the deity "Amenotominomikoto(天富命)", according to legends, in the ancient age when Emperor Jinmu, the very first Emperor of Japan, raised its army to conquer the east, Amenotominomikoto lead his tribe from far west (Near modern Shikoku), landed on the beaches of Fura to the south of Katsuura. He brought with him wealth and knowledge of agriculture, taught the locals to plant Ramie and rice, and played an important role in spreading culture to the then undeveloped Kanto Area, which would, after so many years, house Tokyo, one of the greatest cities on earth. This Shrine is supposed to mark the final resting place of the god, while exact date of erection is lost in history, the earliest record of refurbishment can be traced to the Heian Era (794-1185AD)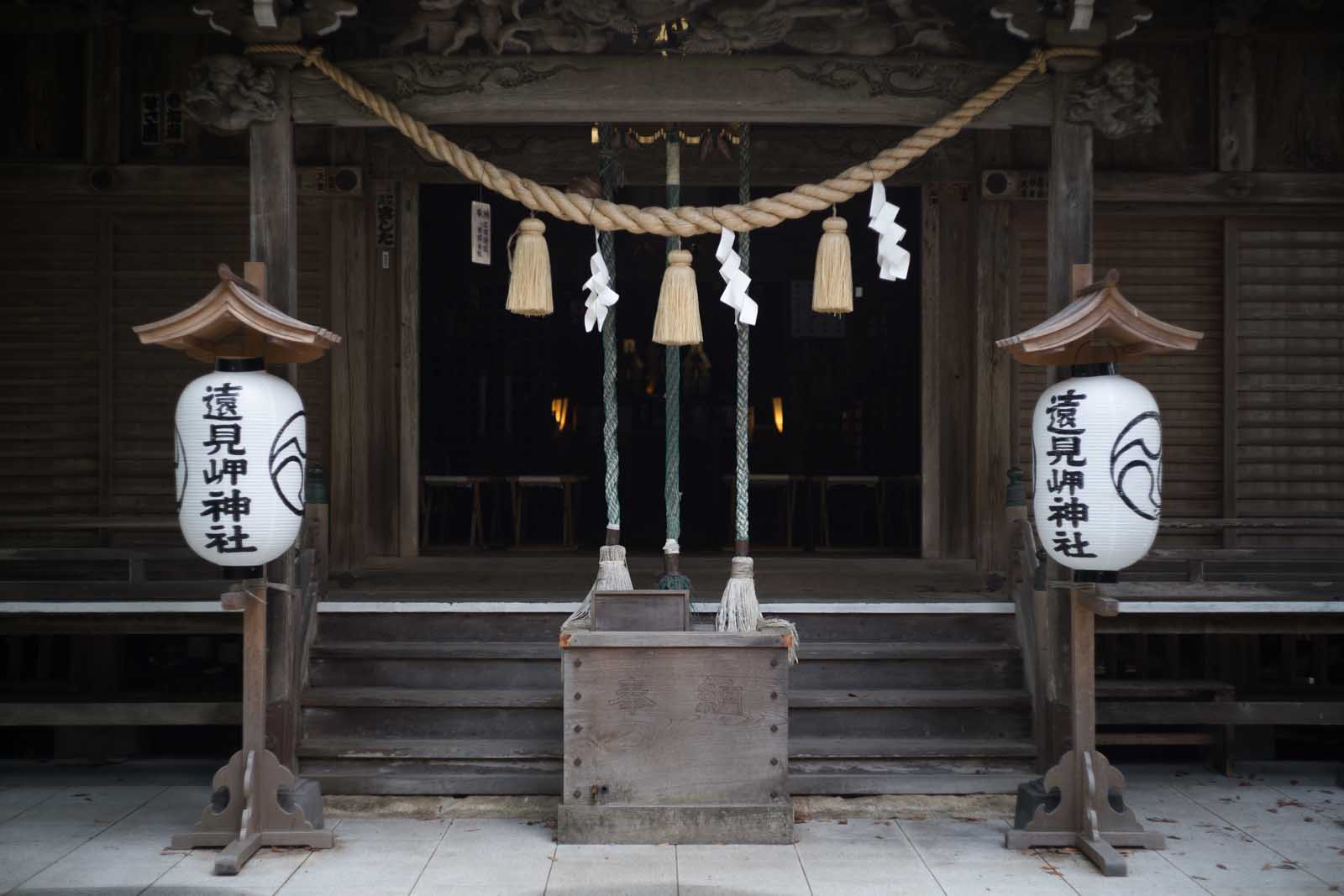 The main Shrine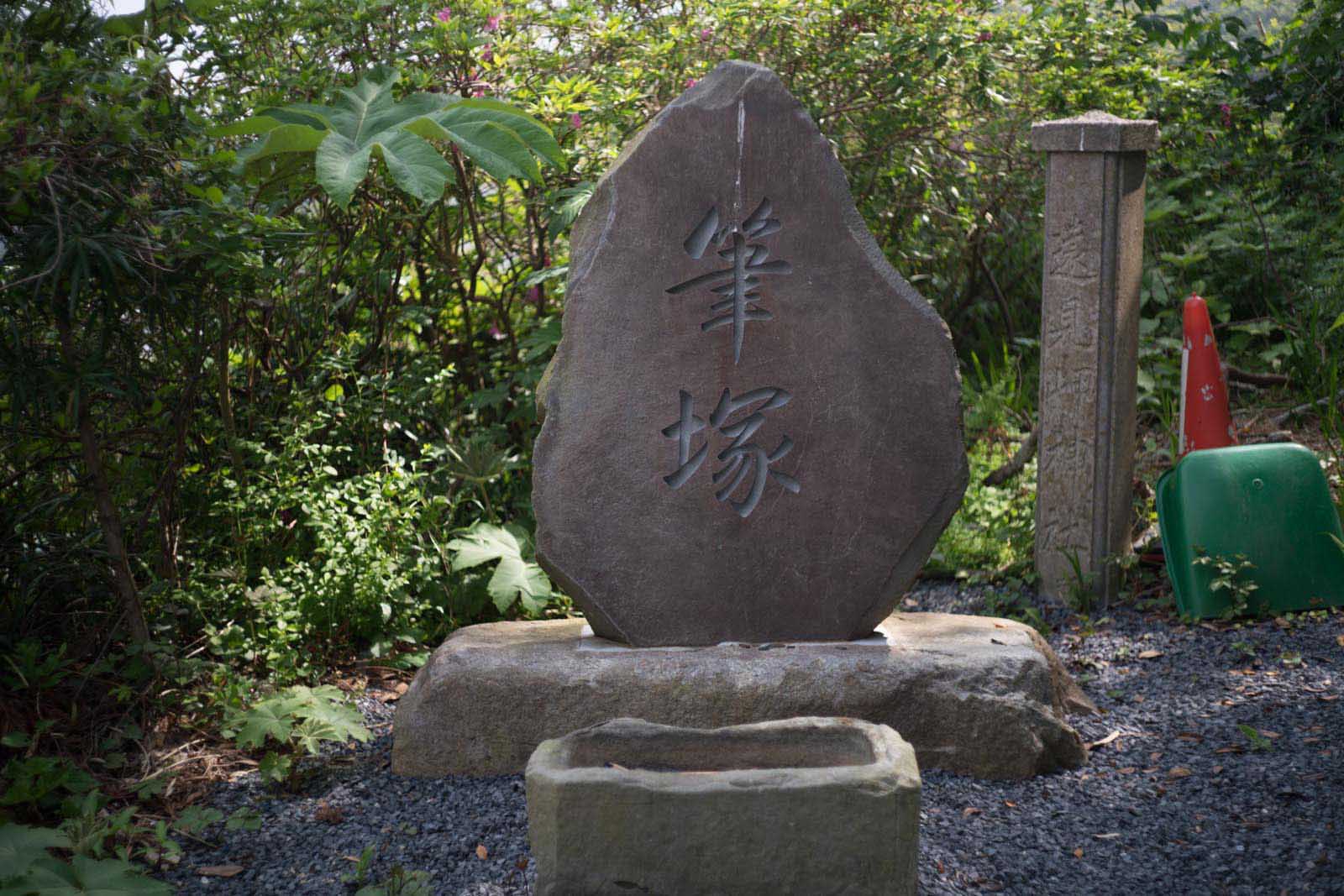 This fude-tsuka, or the grave of pens, is a place to offer old, used pens to the gods who will in return bless your intelligence.
Between 2/23 and 3/4, the stairs feature the "Katsuura big Hinamatsuri"(かつうらビッグひな祭り), where dolls will cover every steps of the stairs, one of the most famous Hinamatsuri events in Japan.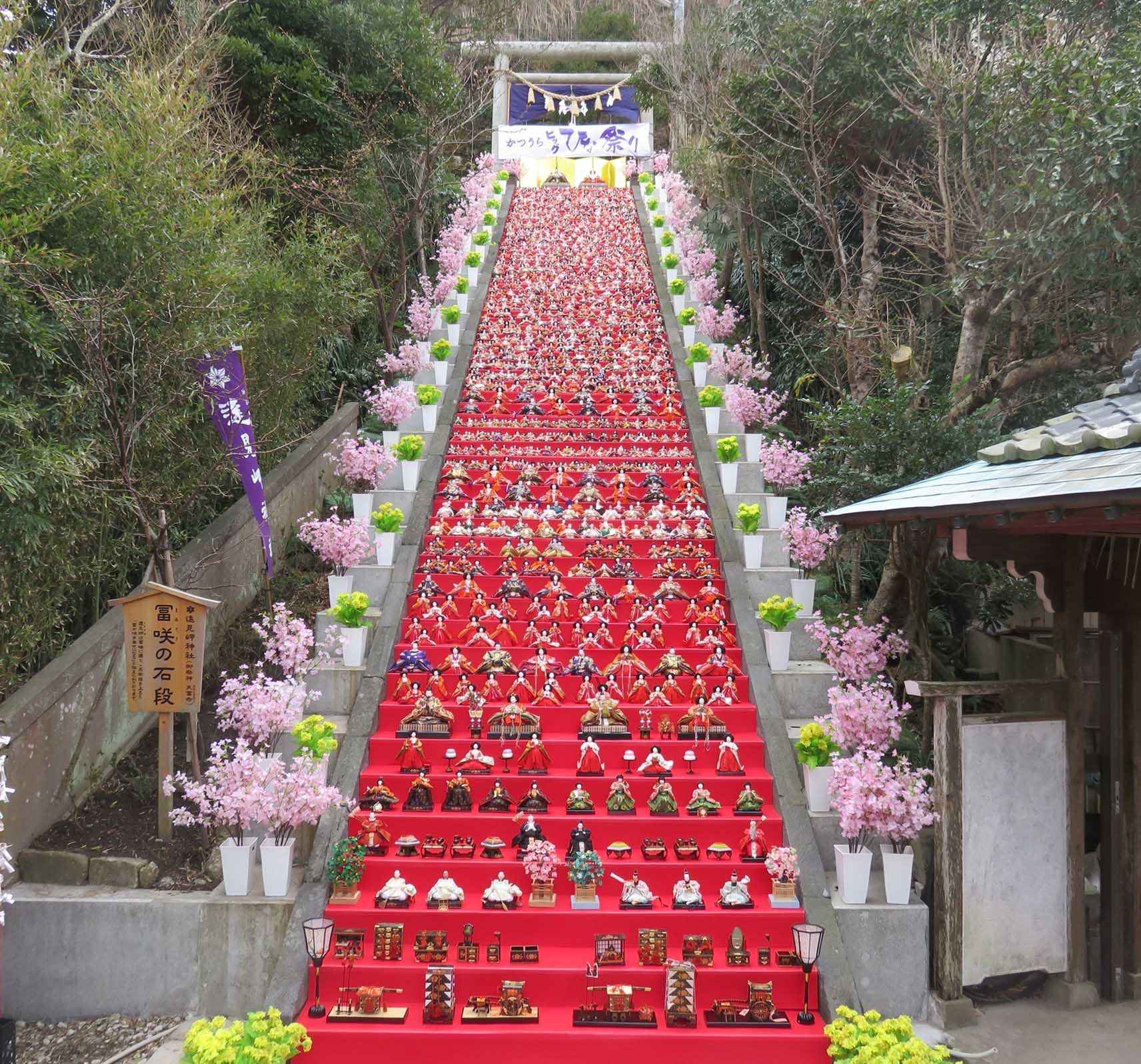 Photo credit belongs to :http://www.katsuura-sanpo.com/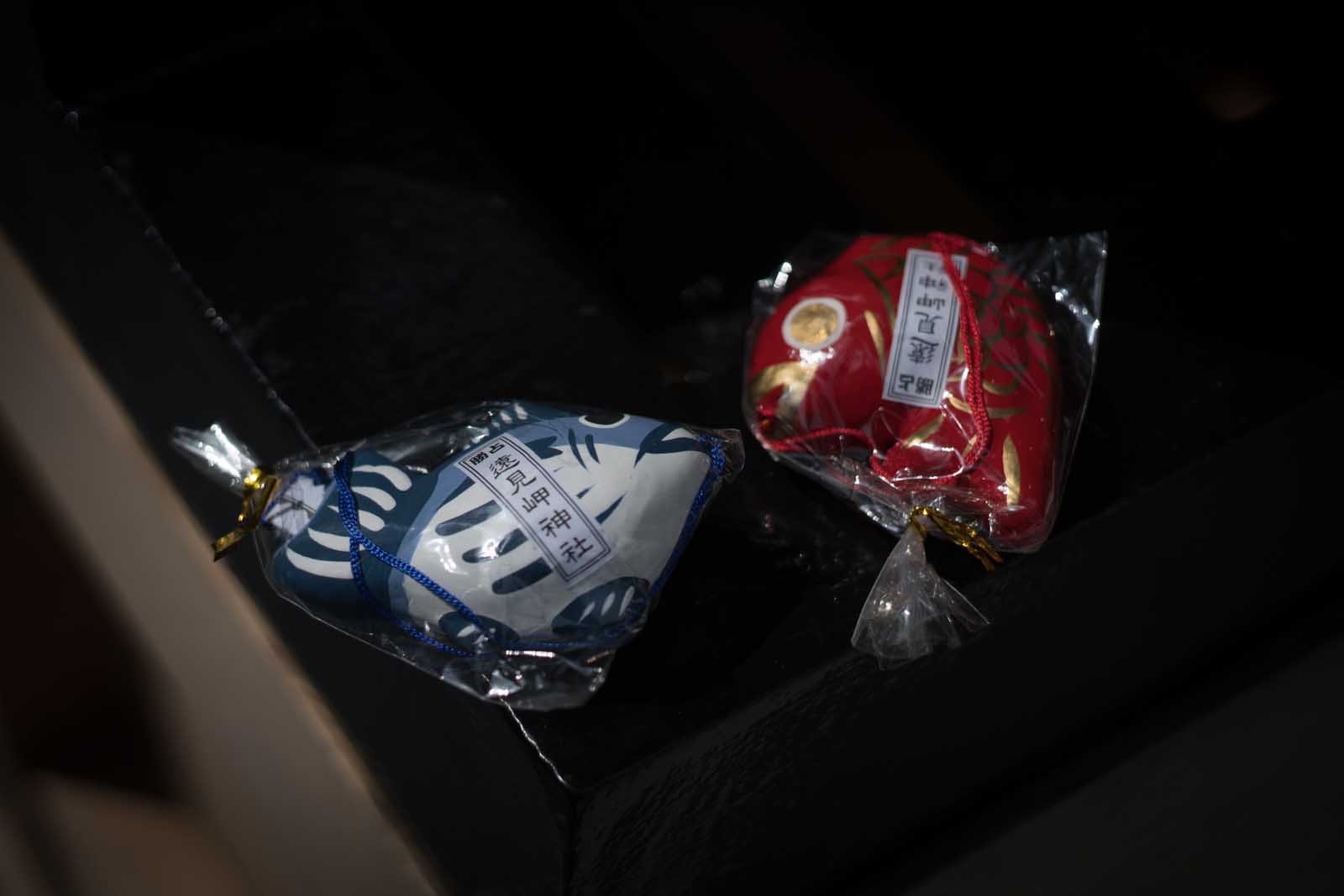 Cute handmade bonito charms, a fortune slip is hidden at the back fin of them! 300JPY.
Leaving the shrine, a local photographer friend agreed to take us on a photo shoot, how lucky!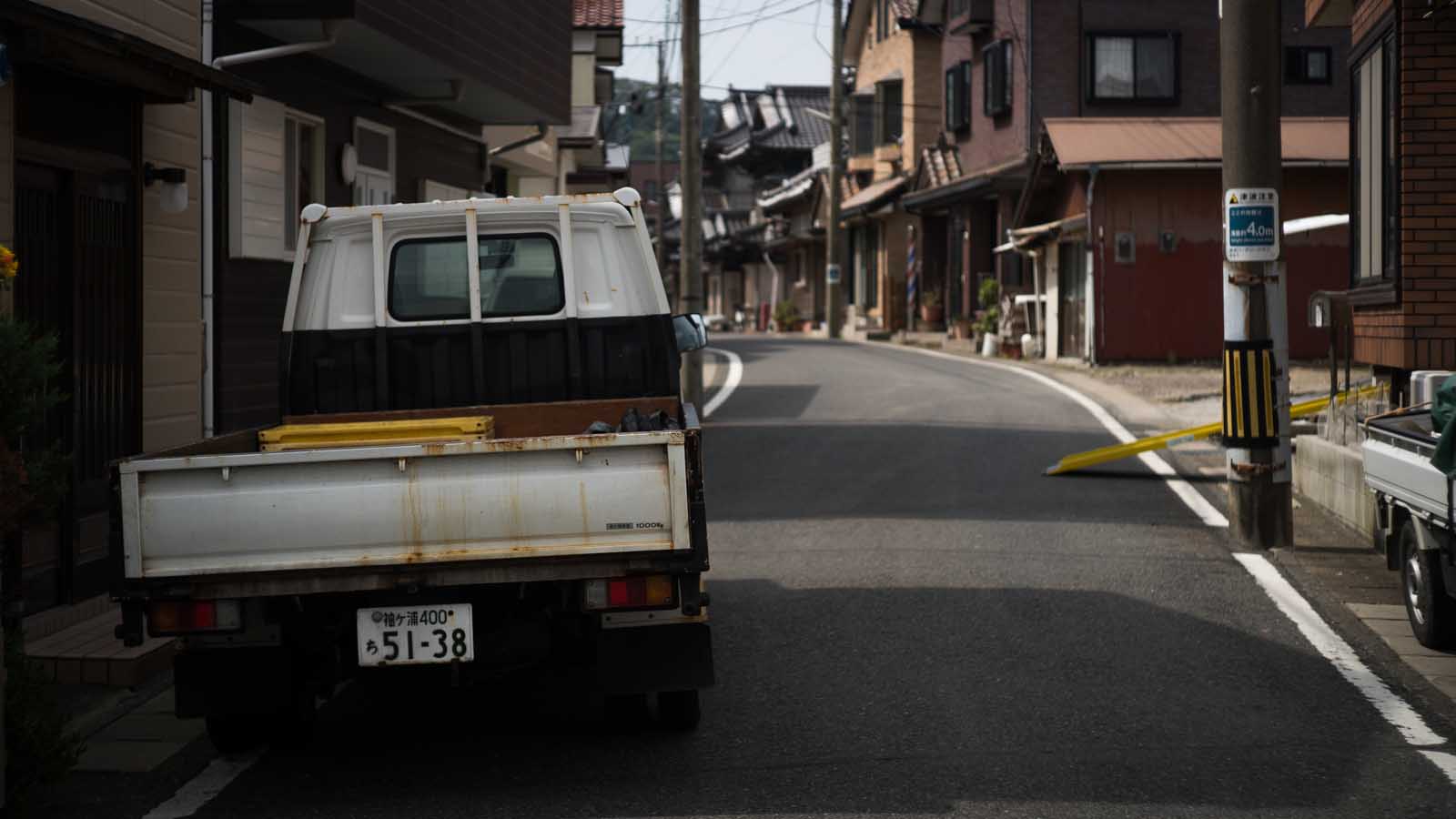 In this quiet town a lot of the buildings are still built using wood, this scenery is becoming rare in the country.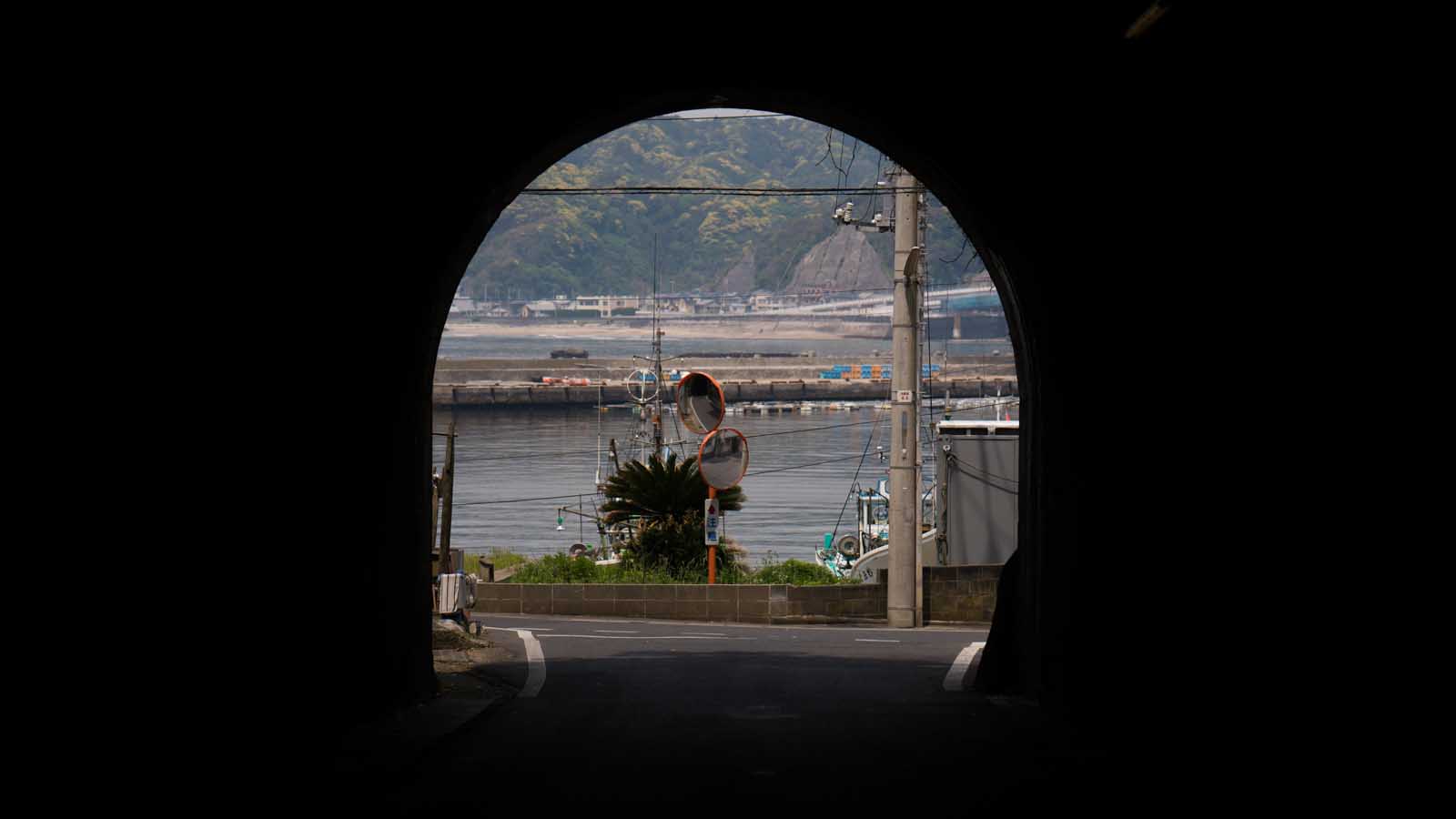 The hilly area has a lot of tunnels, this one faces the fishing port
While this one faces a beautifully green Sugi forest, I like tunnels as they provide a natural frame for my photos.
------------------------------
Location:
Tomisaki Shrine【遠見岬神社】
1 Katsuura, Katsuura, Chiba, Japan
------------------------------
Katsuura Lighthouse【勝浦灯台】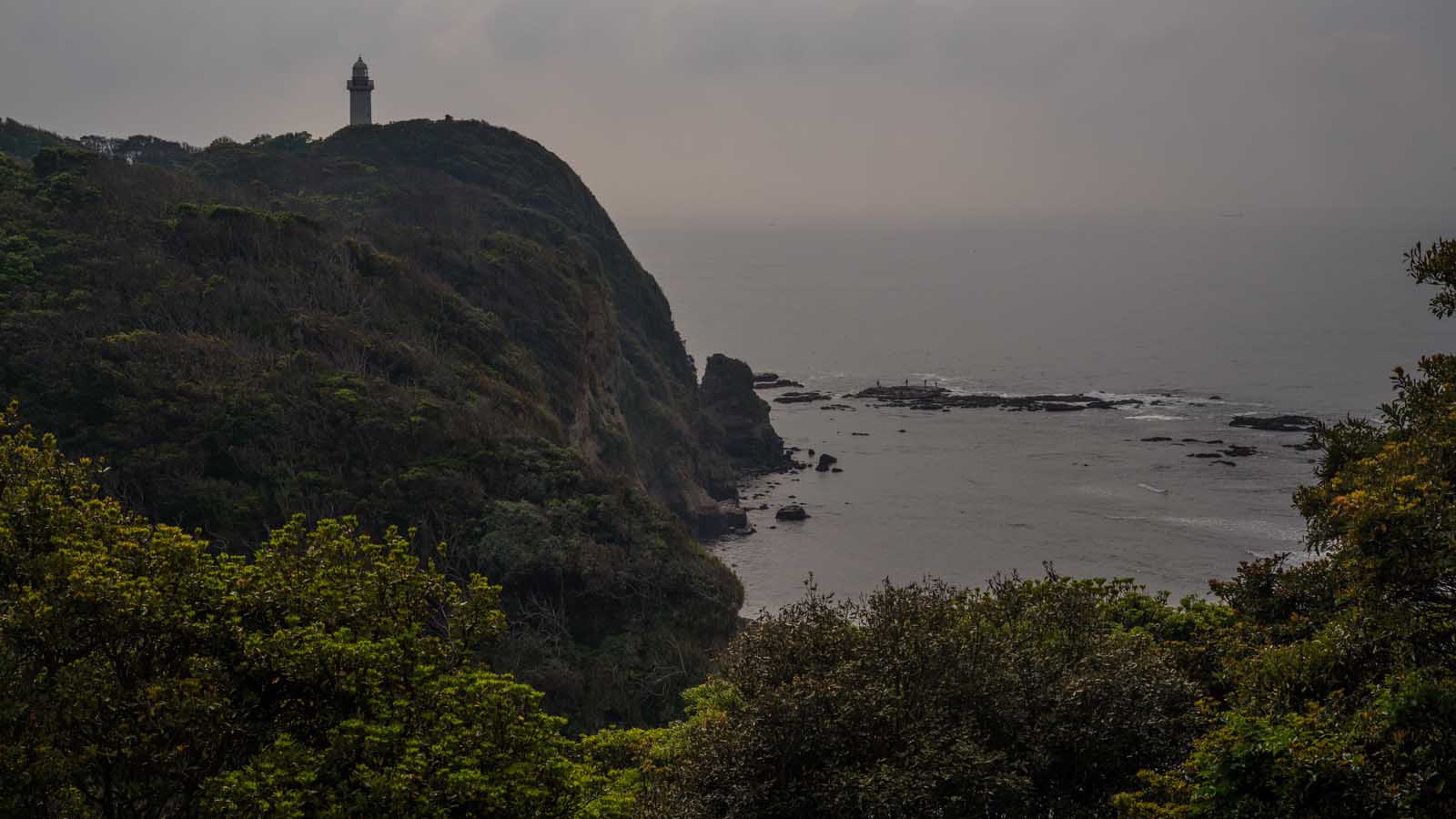 The Katsuura Lighthouse from afar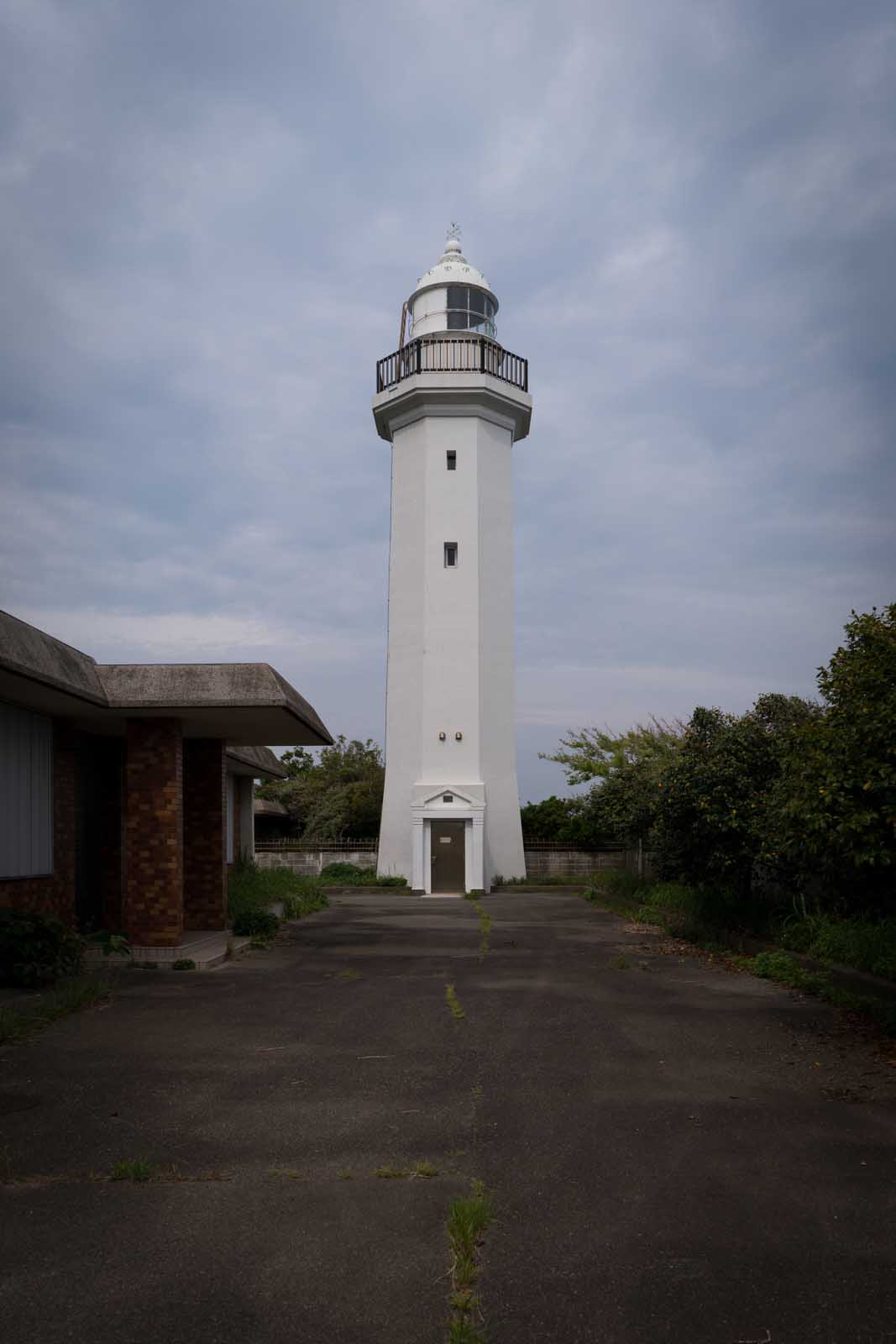 Katsuura Lighthouse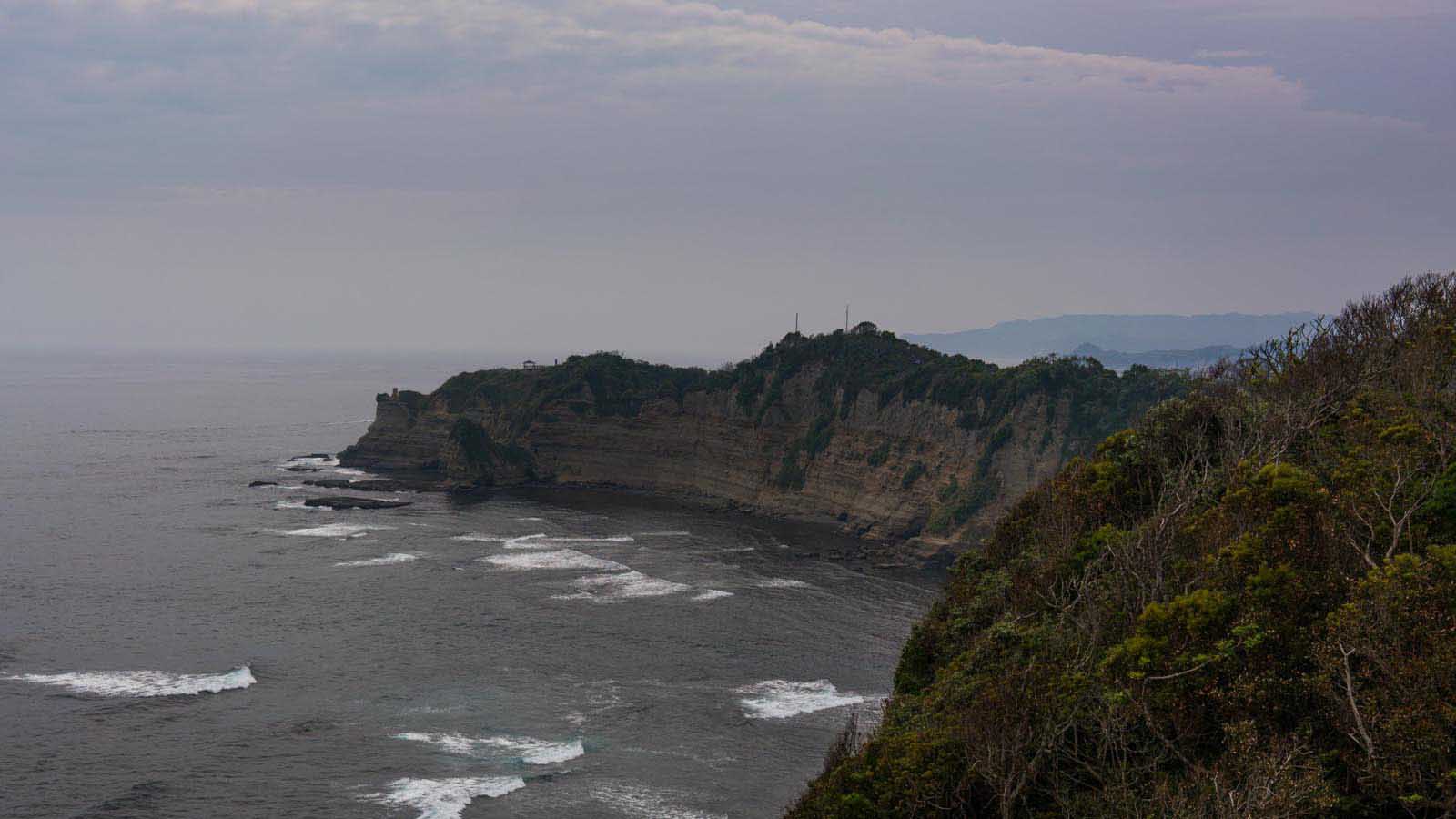 Hachiman Misaki Cliffs
The Octagonal Katsuura Lighthouse is first lit in 1917 and this is the 101st year. Built on top of a high cliff, this lighthouse had been protecting vehicles along the coastline for a century. It is possible, under clear weathers, to get a view across the spectacular cliffs of southern Boso Peninsula to the tip.
Unfortunately, the Lighthouse itself is not normally open to visitors.
------------------------------
Location:
Katsuura Lighthouse【勝浦灯台】
Kawatsu, Katsuura, Chiba, Japan
------------------------------
Onaura【尾名浦】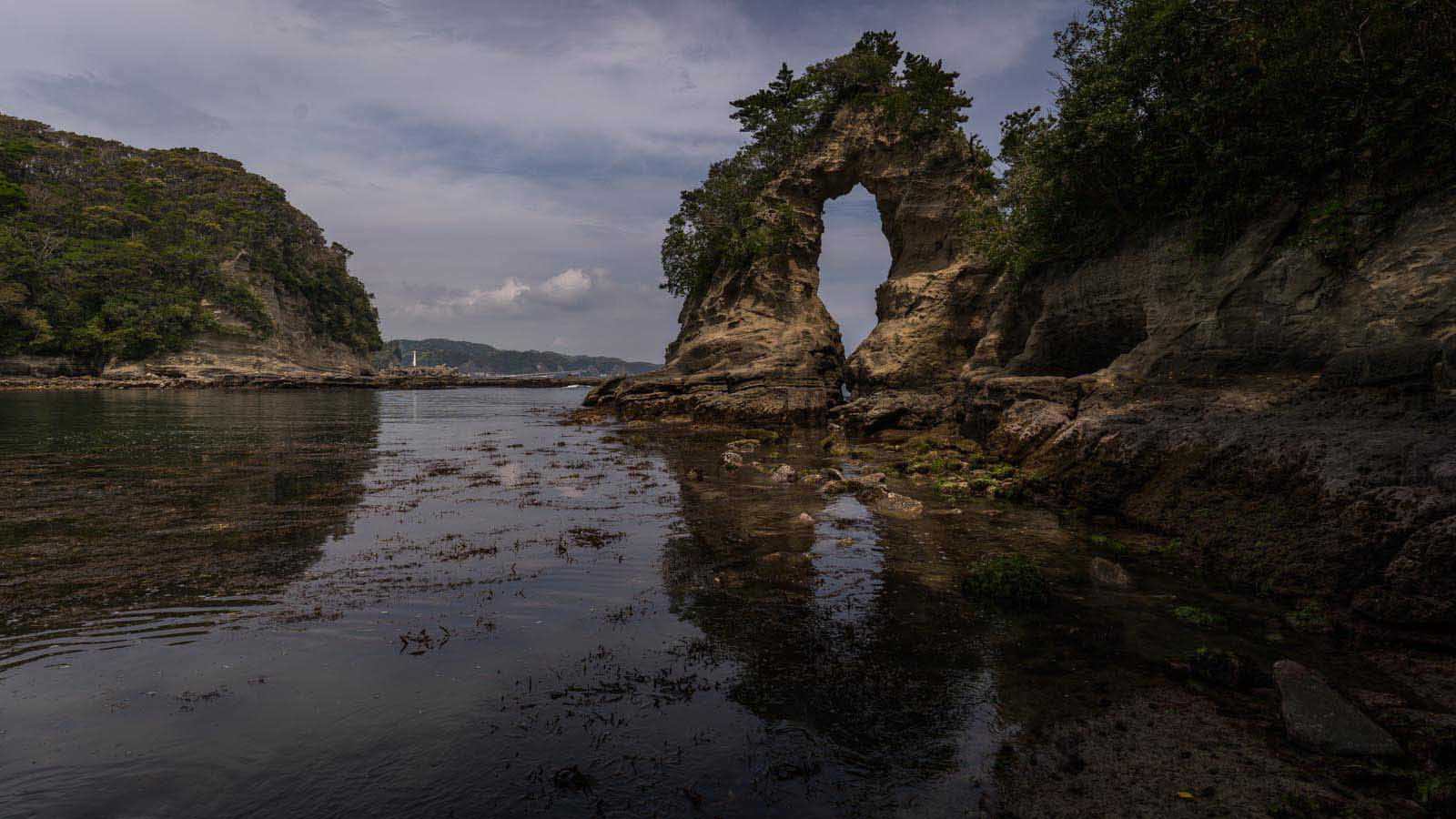 This is my favorite spot, the glasses rock of Unaura cove, looking fragile, this rock had been standing against the waves for centuries. For exactly two days (unfortunately not today) in a year, the sun rises right behind the hole!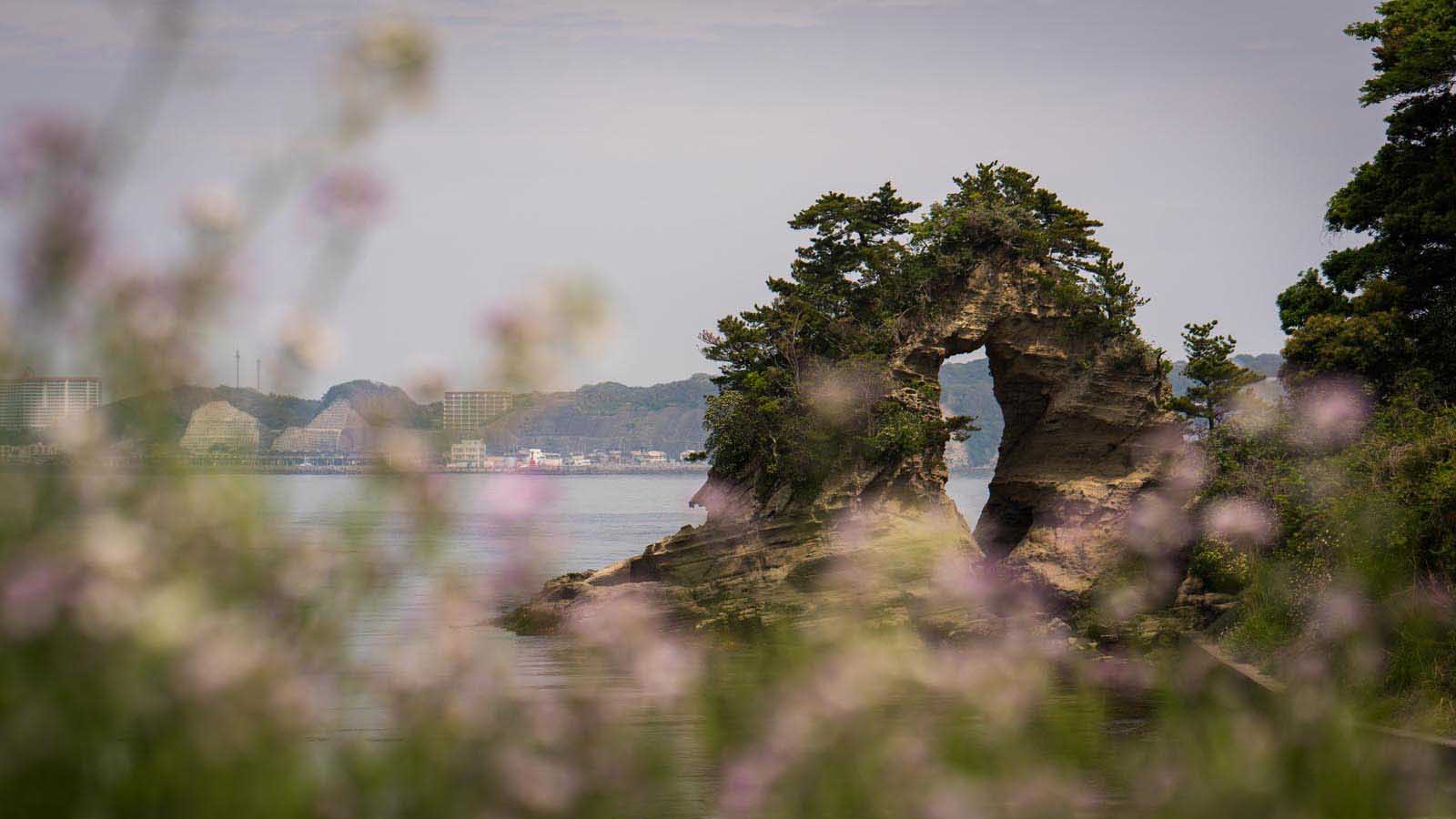 Wild radish is a common coastal plant in the area, they prefer well drained sand and are seen all around the coast, blooming purple flowers in April and May.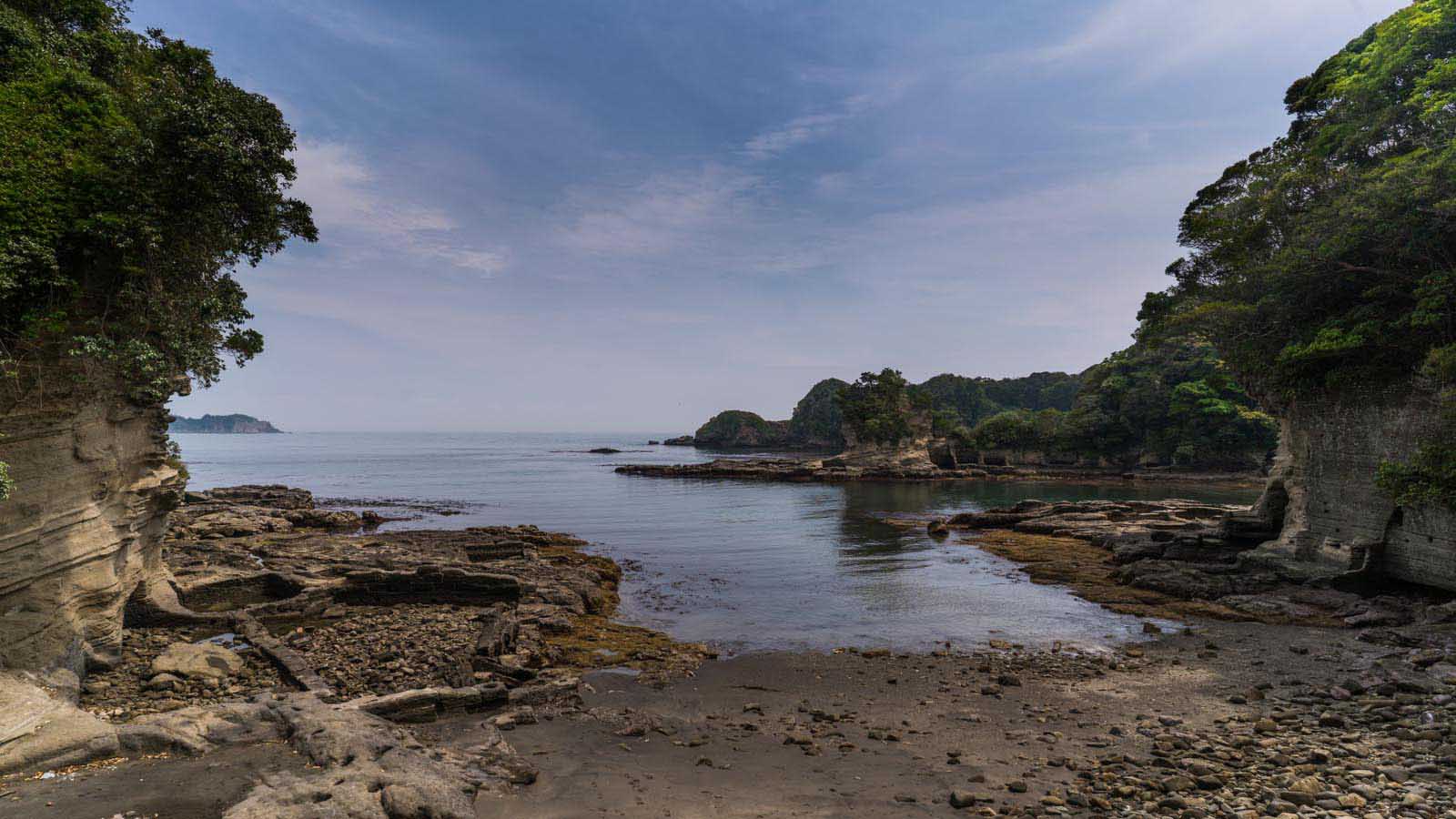 From a neighboring cove 5 minutes across a short tunnel from Glasses Rock.
【まんまる亭】Manmaru-Tei
Taking a break from the photo shoot, after carrying around kilograms of gear for half a day, we needed something big!
Combining fresh Bonitos and the Chinese spicy Tantanmen Noodles, people of Katsuura invented the Bonito Tantanmen (カツオ担々麺). It had been said that the spiciness is there to keep Abalone divers (usually women) warm when they often have to dive into the icy pacific waters during the colder months. The noodle spread and there are multiple restaurants now. They are all slightly different in terms of hotness and texture, but Manmaru-Tei happens to be just right for me, as I like slightly harder noodles. I am guessing it may be on the hot side for many Japanese people, if you are not a chili-holic, you could ask for less chili oil! the spring onion on top is a good match with the chili!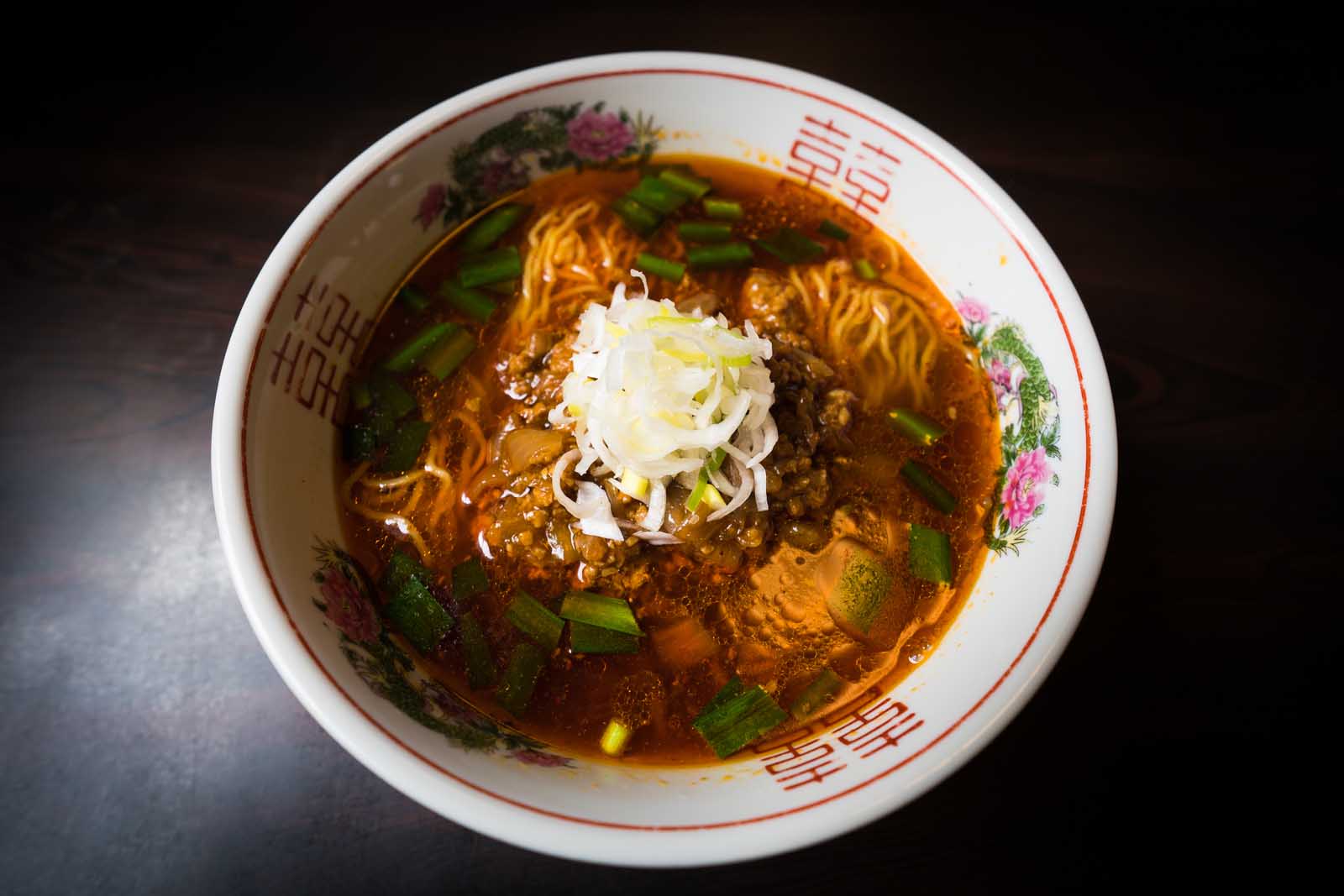 Another staple is the deep fried bonito fish cake. This is invented about 40 years ago in a year when the bonito catch was abnormally huge. In a time when refrigerators were not commonly available, the mother of Manmaru-Tei's owner made them into fish cakes both for better storage and to sell further. Everyone loved it and another regional dish was born!The fish cake is 100% and therefore not as fatty as it seems, very nice compliment to an icy beer!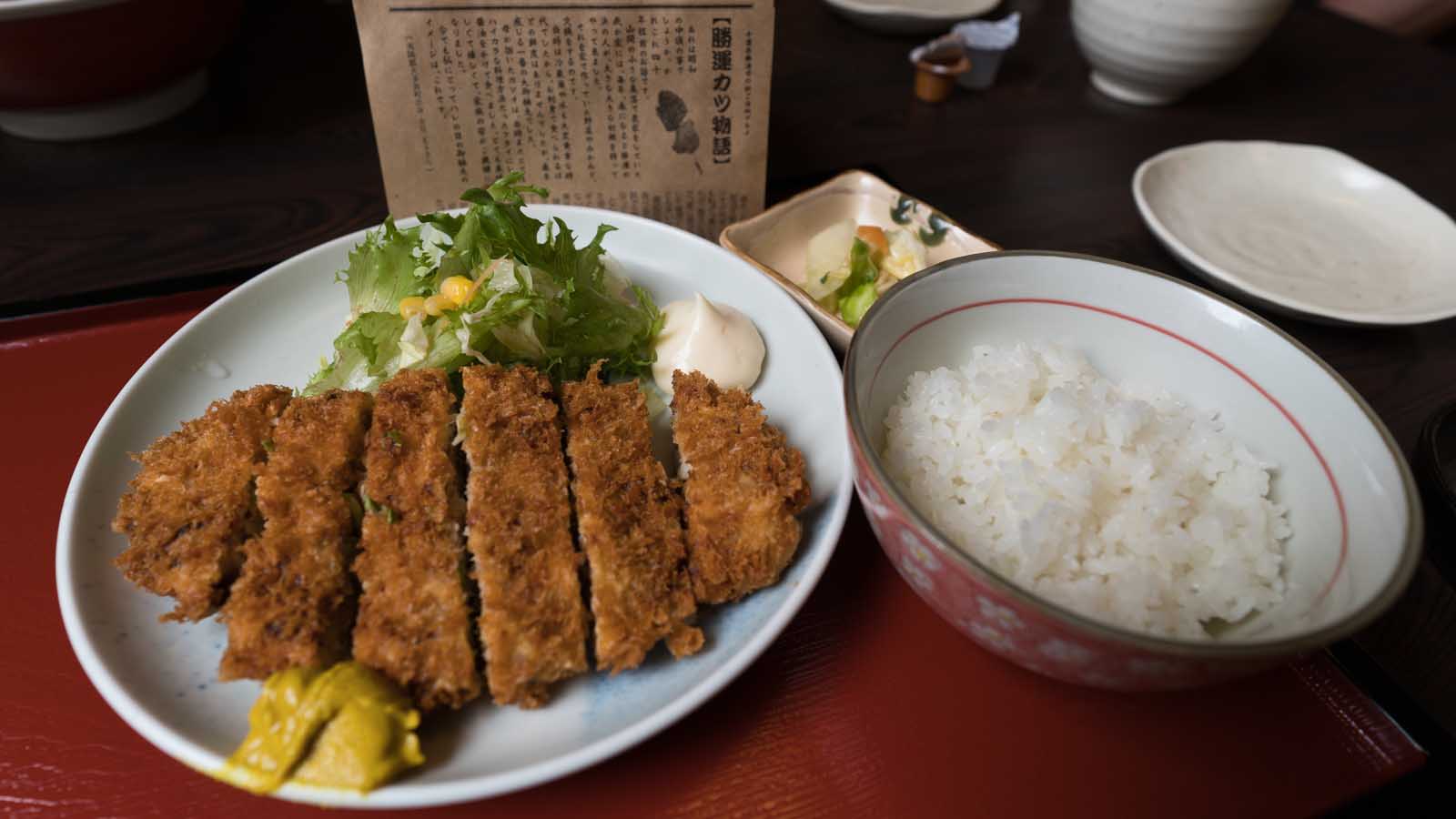 To cater for hungry students of the nearby Katsuura International University of Martial Arts, Manmaru-Tei serves huge portions for a very reasonable price. The Tantanmen and Bonito fishcake set is 1200JPY.
------------------------------
Location:
Manmaru-Tei【まんまる亭】
1253-2 Kushihara, Katsuura, Chiba, JAPAN
------------------------------
Uhara Beach【鵜原海水浴場】
The sun was falling, to get the last glimpse of Katsuura's scenery, we went to the Uhara beach, a small inlet surrounded by tall cliffs. Boosted by the terrain, this is one of the more popular sites where wind surfers enjoy their sport. Almost all beaches in Katsuura has a Torii (The shrine door), Built to protect seafaring fishing boats, the gods have probably gotten busy to have to protect windsurfers too.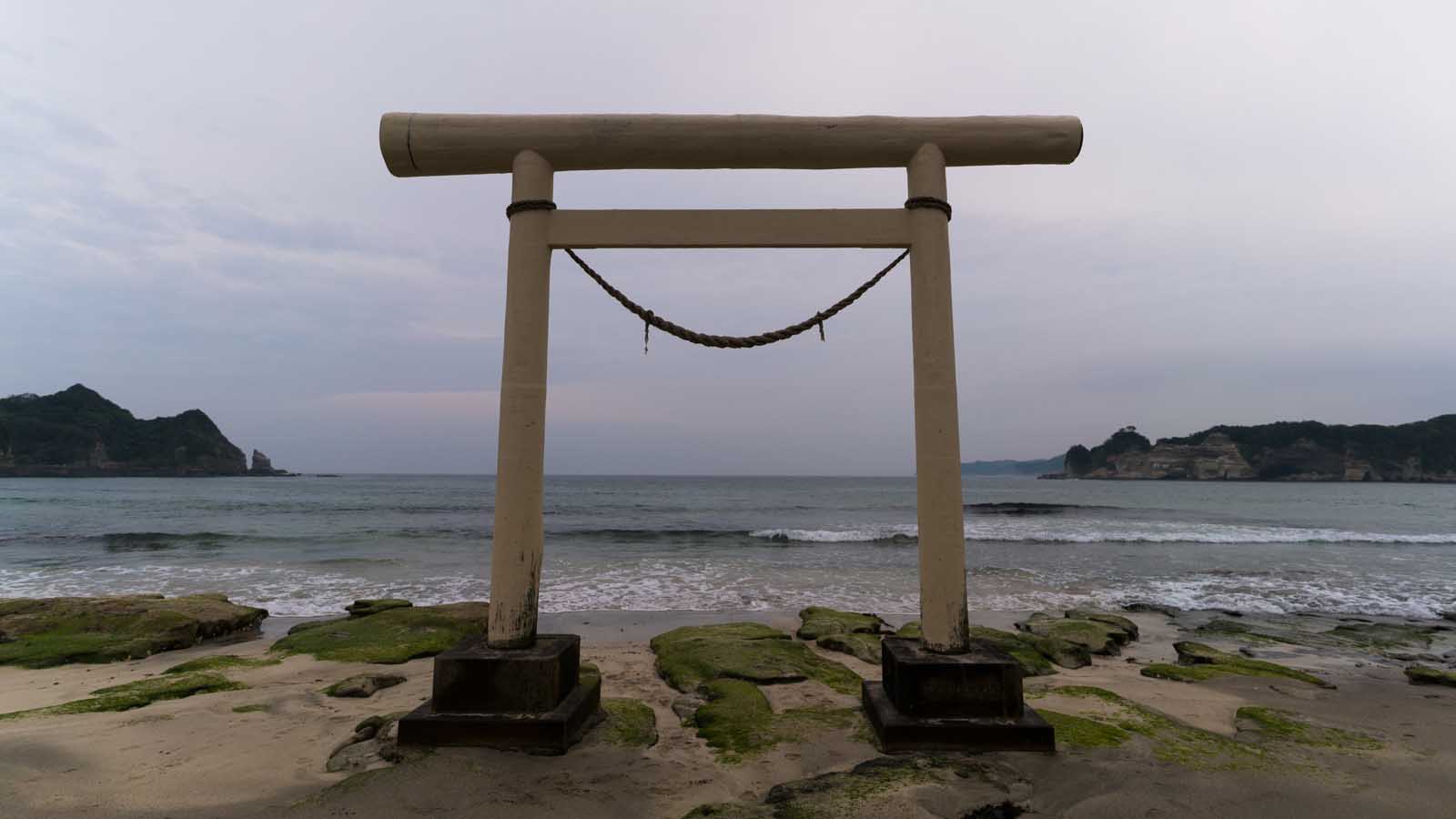 The white shrine Torii on Uhara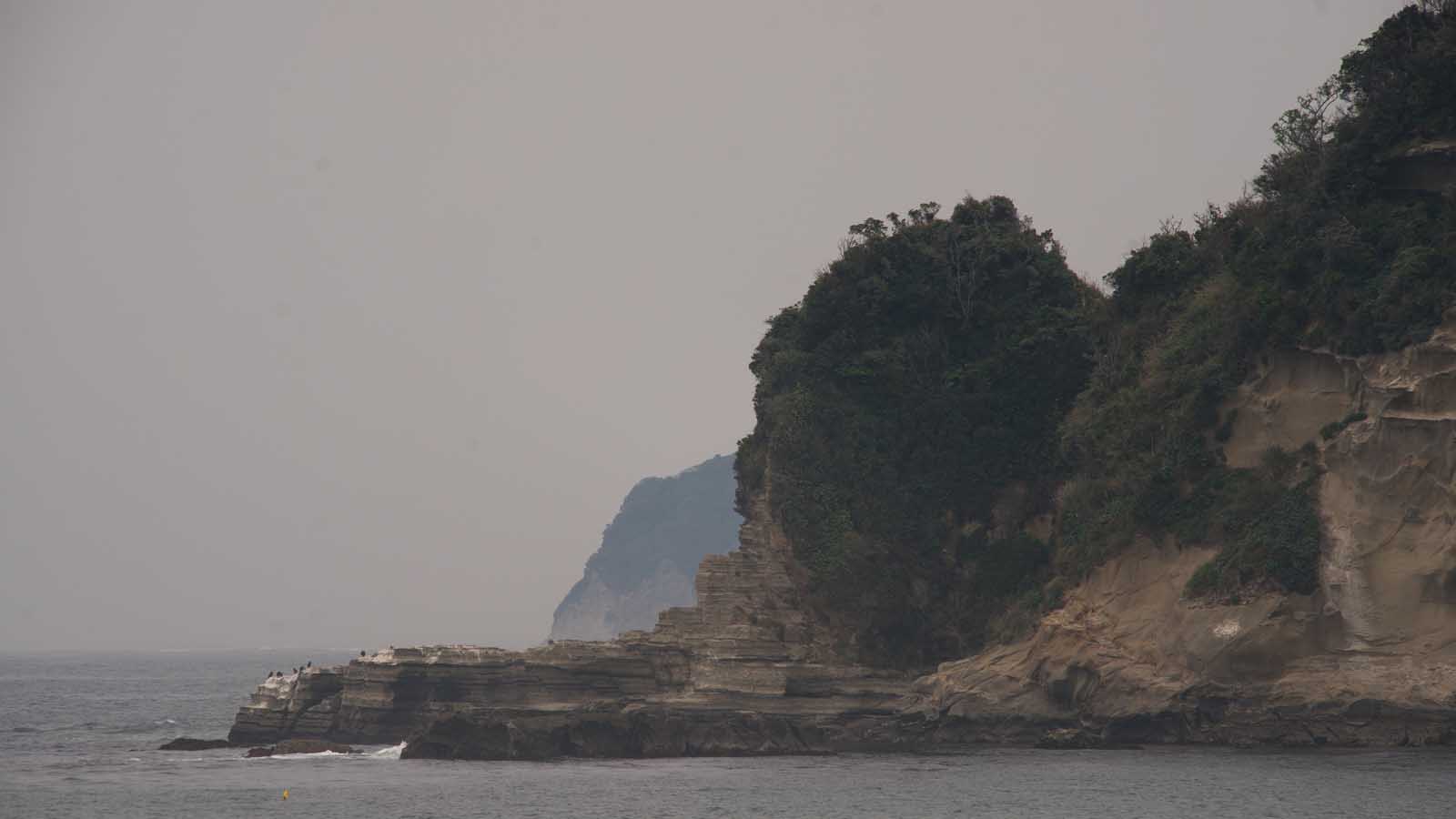 The tall cliffs on the two sides concentrated waves into this small inlet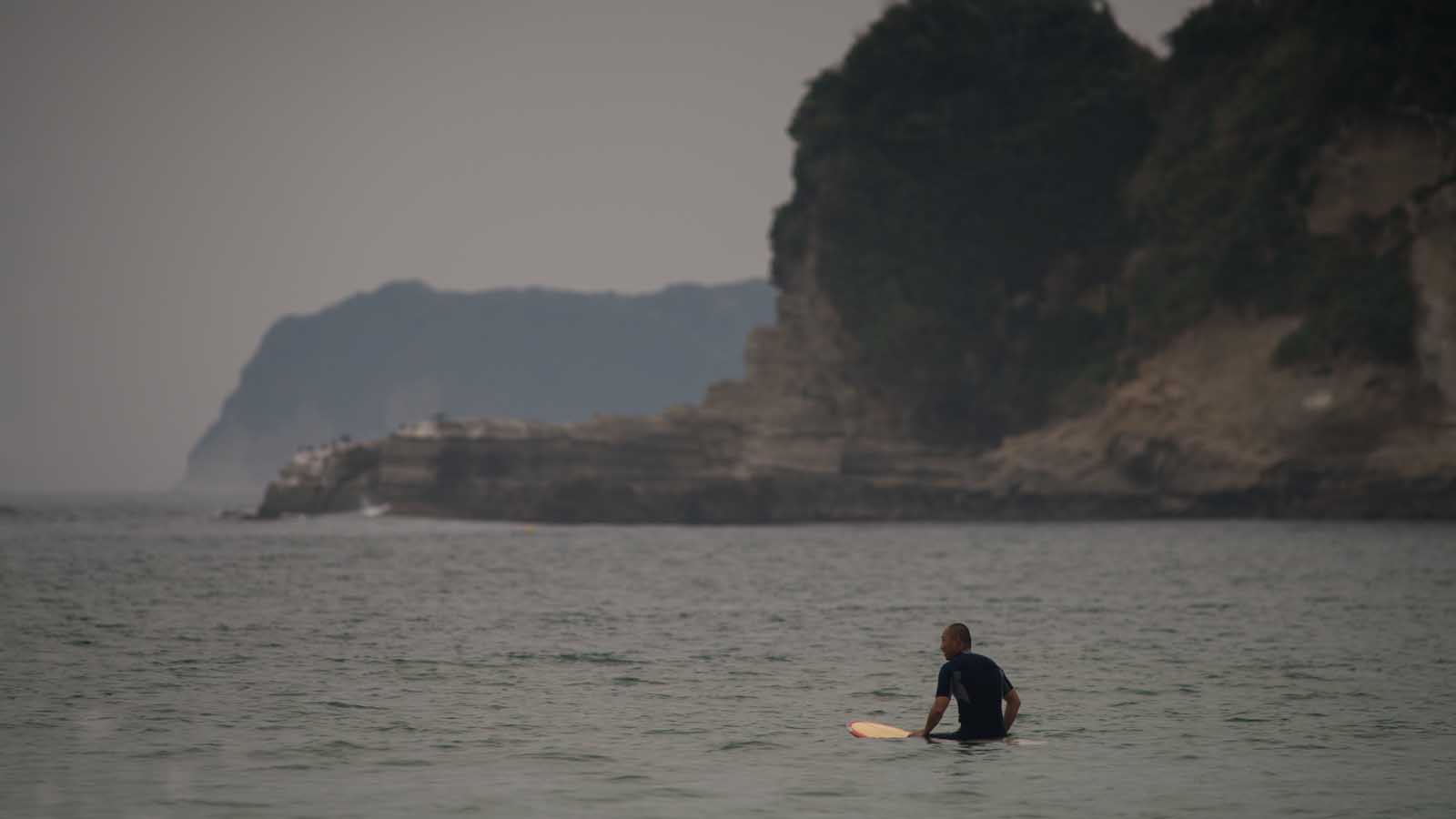 Unfortunately waves were not on his side until sunset, and I couldn't capture the moment of him standing up!
But I feel that he will be back again tomorrow
Matsunoya Guesthouse【旅館 松の家】
Having finished food we visited a guesthouse not far away from the morning market, The Matsunoya Guesthouse.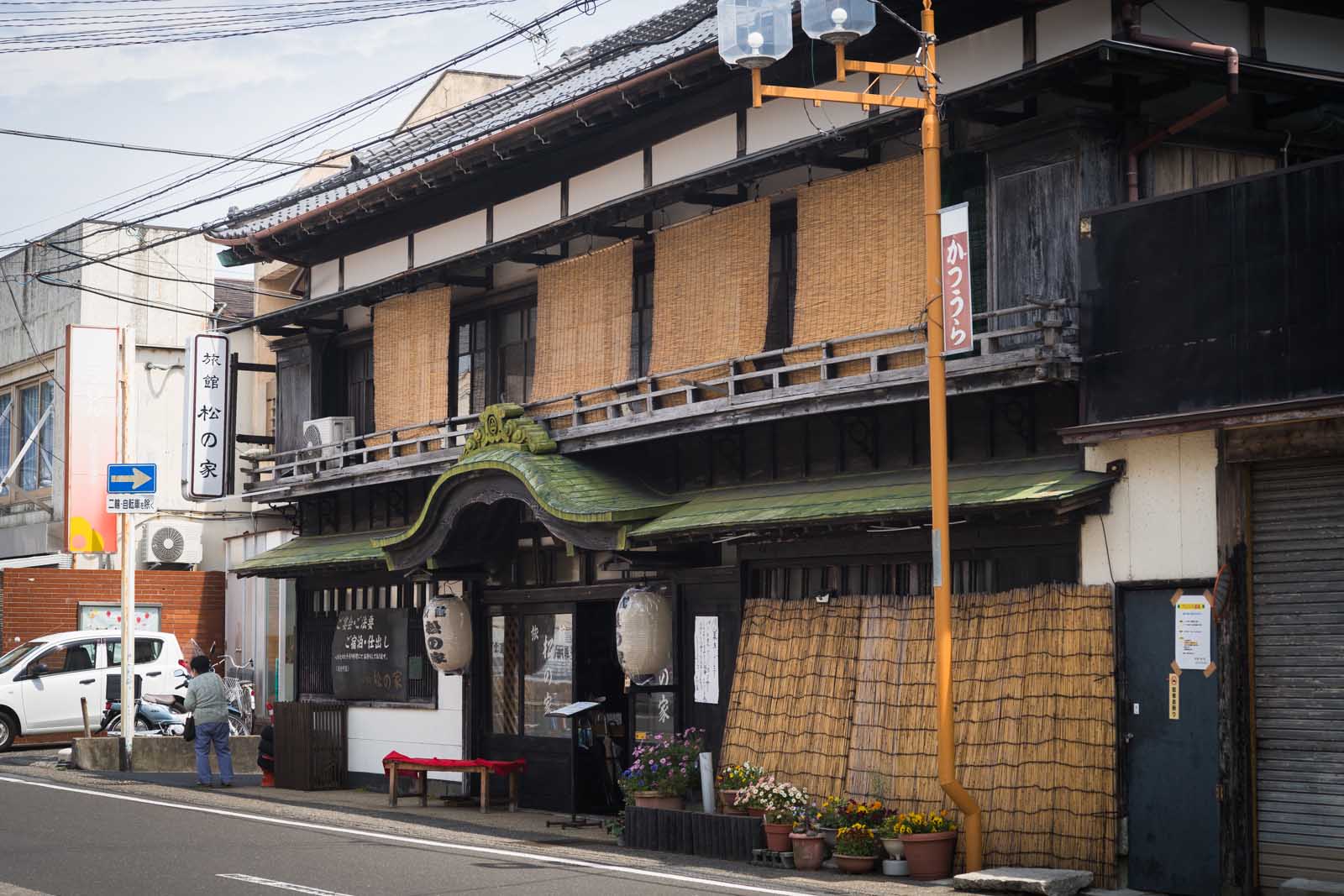 In Katsuura there is a very old guesthouse that began probably in the Edo Period (Edo ended exactly 150 years ago), while written history traces back to Meiji, giving the main building designation as a National Tangible Culture Heritage. The current owner is the 7th Generation. When I stepped in, I could smell the calming scent of Igusa grass from the Tatami flooring. The building is purely wooden, giving an illusion of being sent back in time!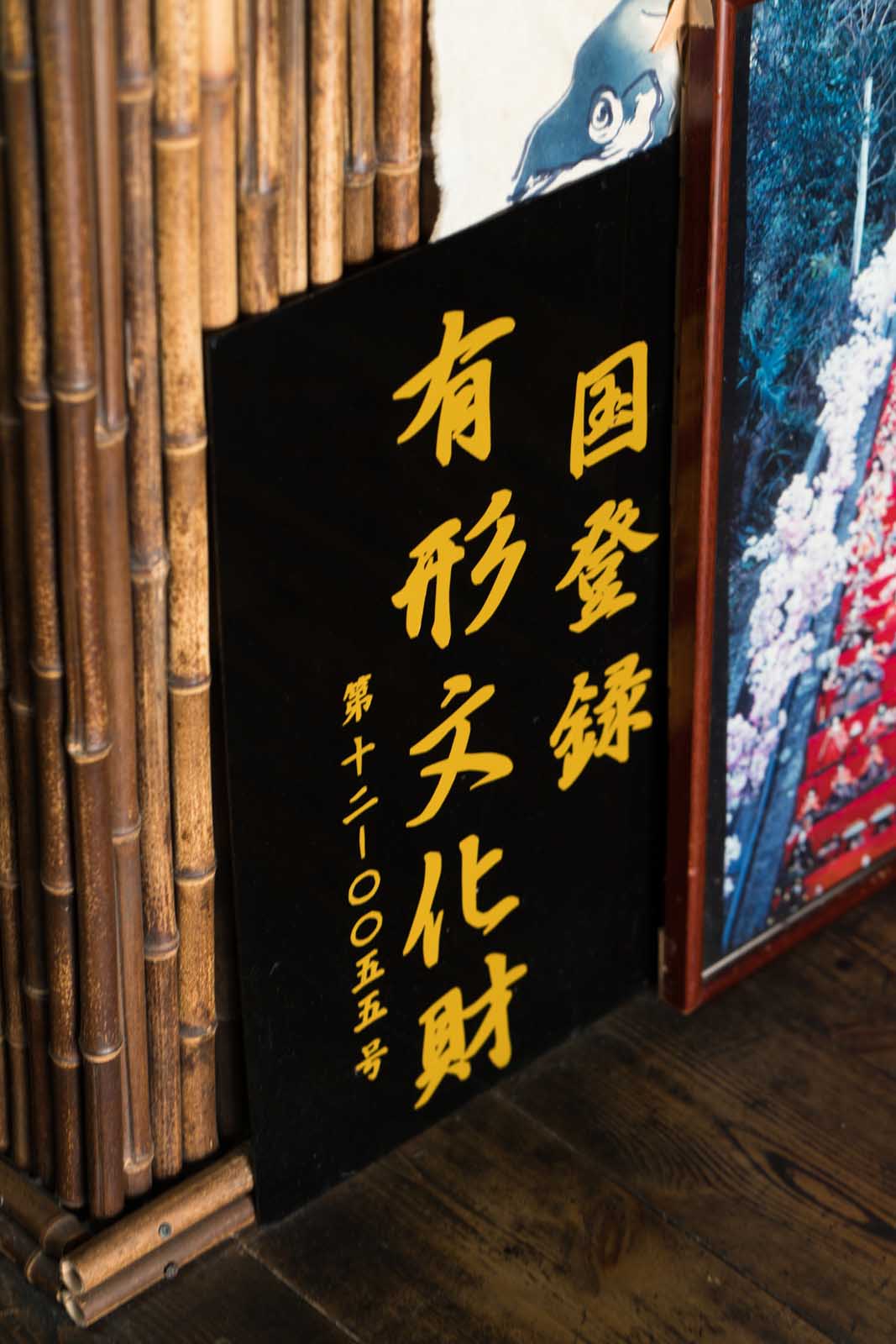 Ancient television, haven't seen this before.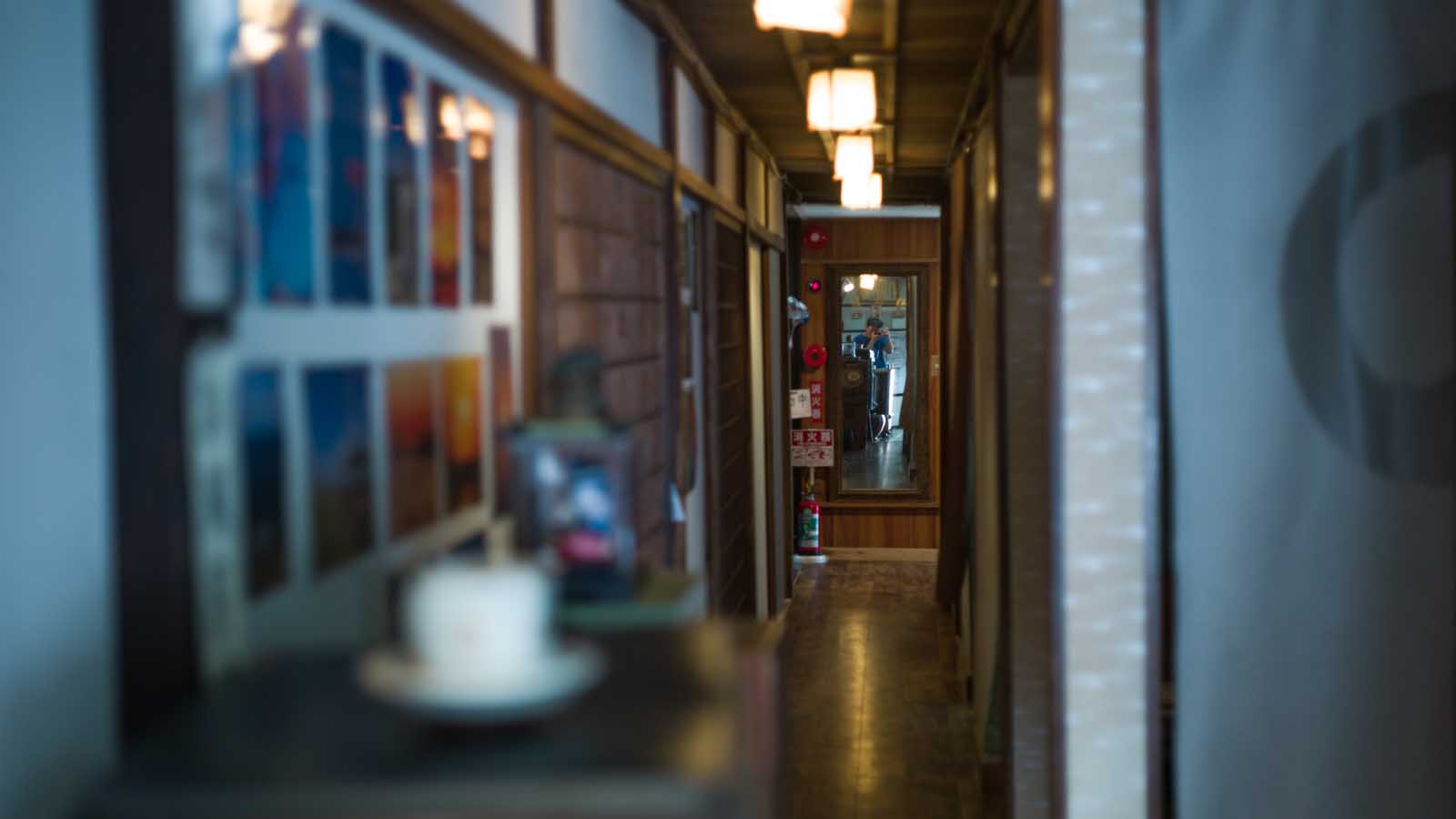 An ancient corridor on the entrance floor.
You may start to think this guesthouse would be expensive but it is in fact one of the best deals I have heard in this country! A huge Tatami room including two meals is just below 12000JPY! Now Let's see how good the meal is..I could almost pay that amount for the meal alone.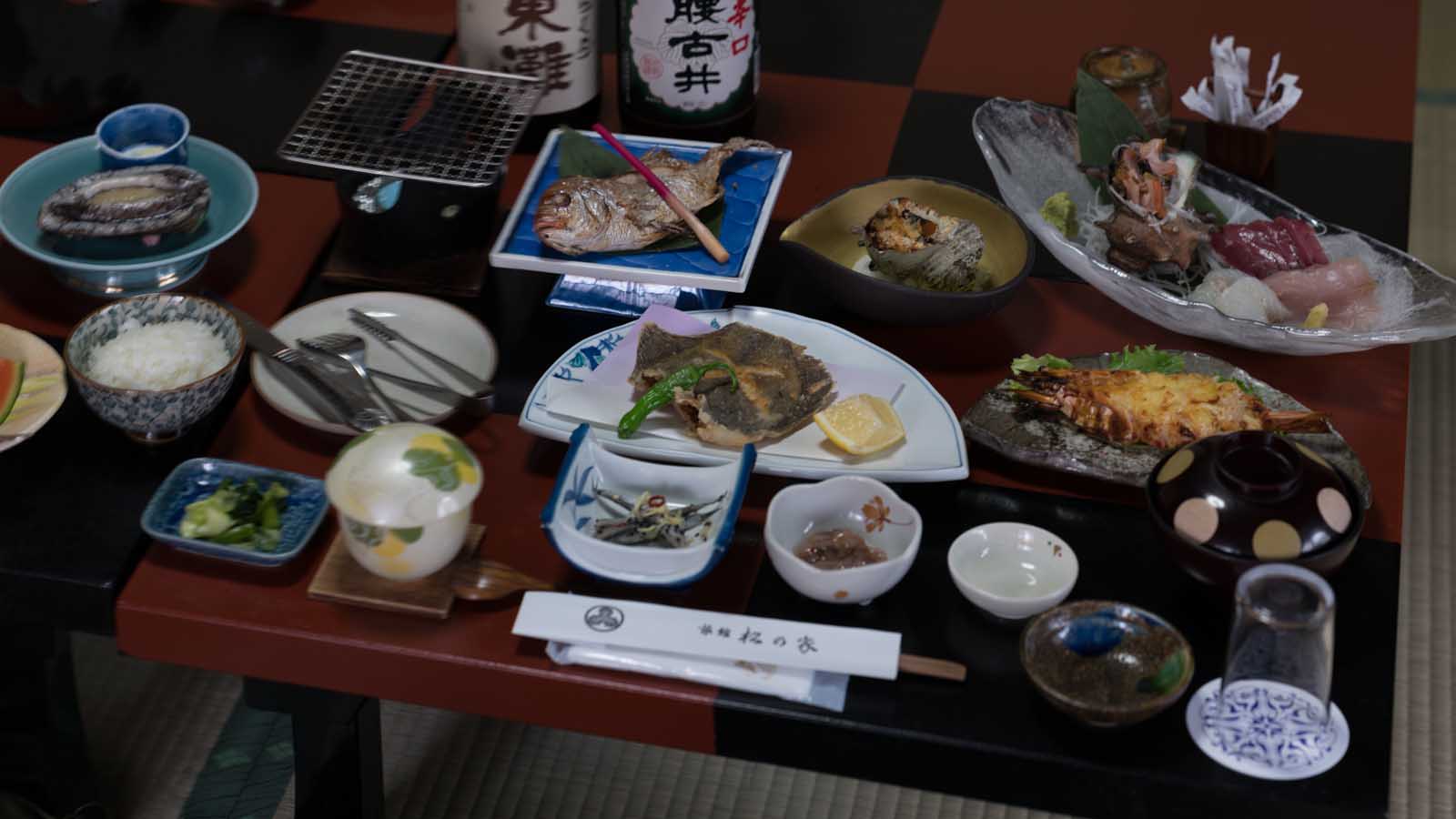 Turban Shells are huge, this dinner features two, one cooked and one eaten raw. I love raw fishes but prefer cooked dishes for shells, taste reasons, nothing dangerous about it. The huge abalone on one side was trying to run away..
The deep fried lemon sole is a common western-influenced local dish and is very good!!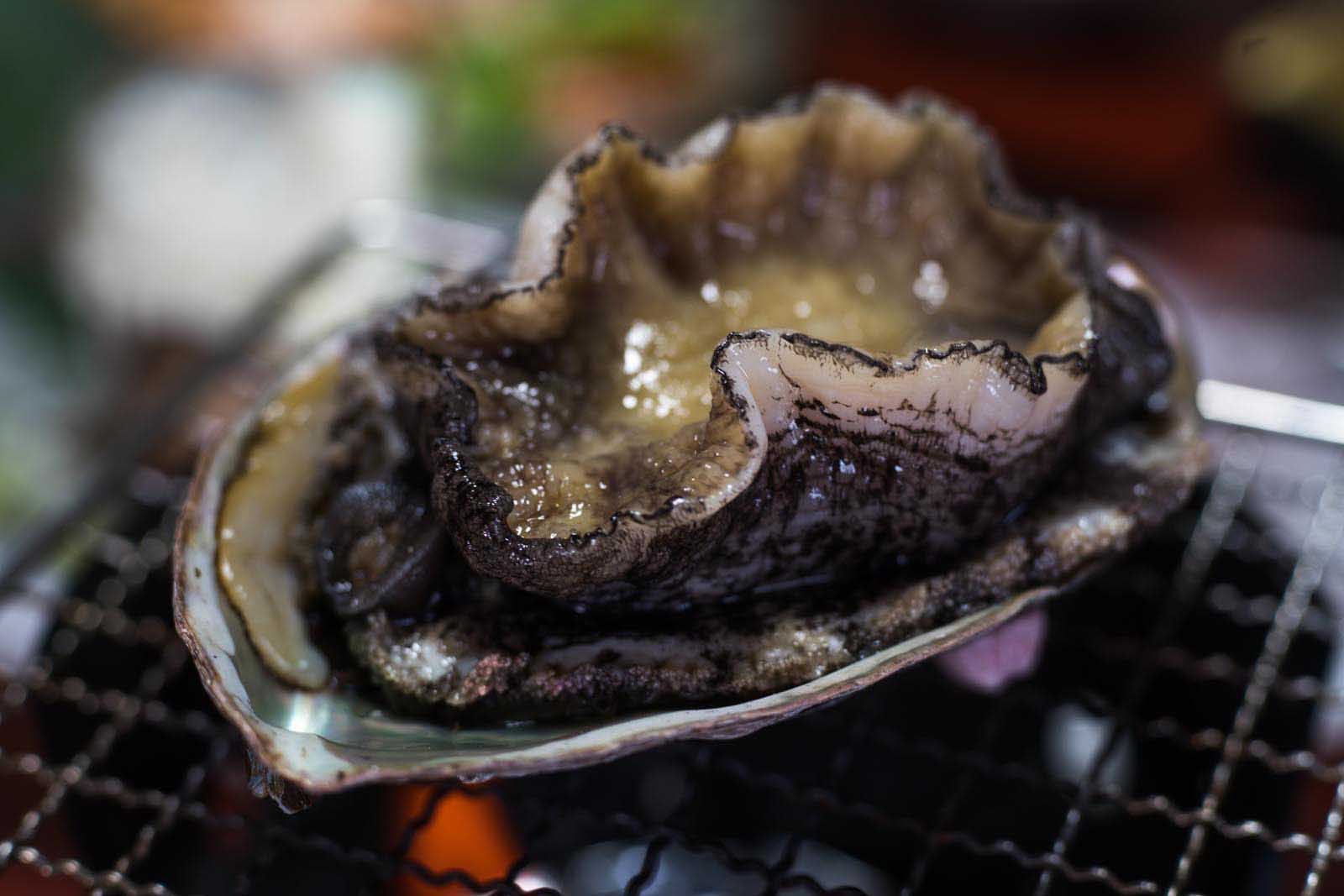 Huge live Abalone!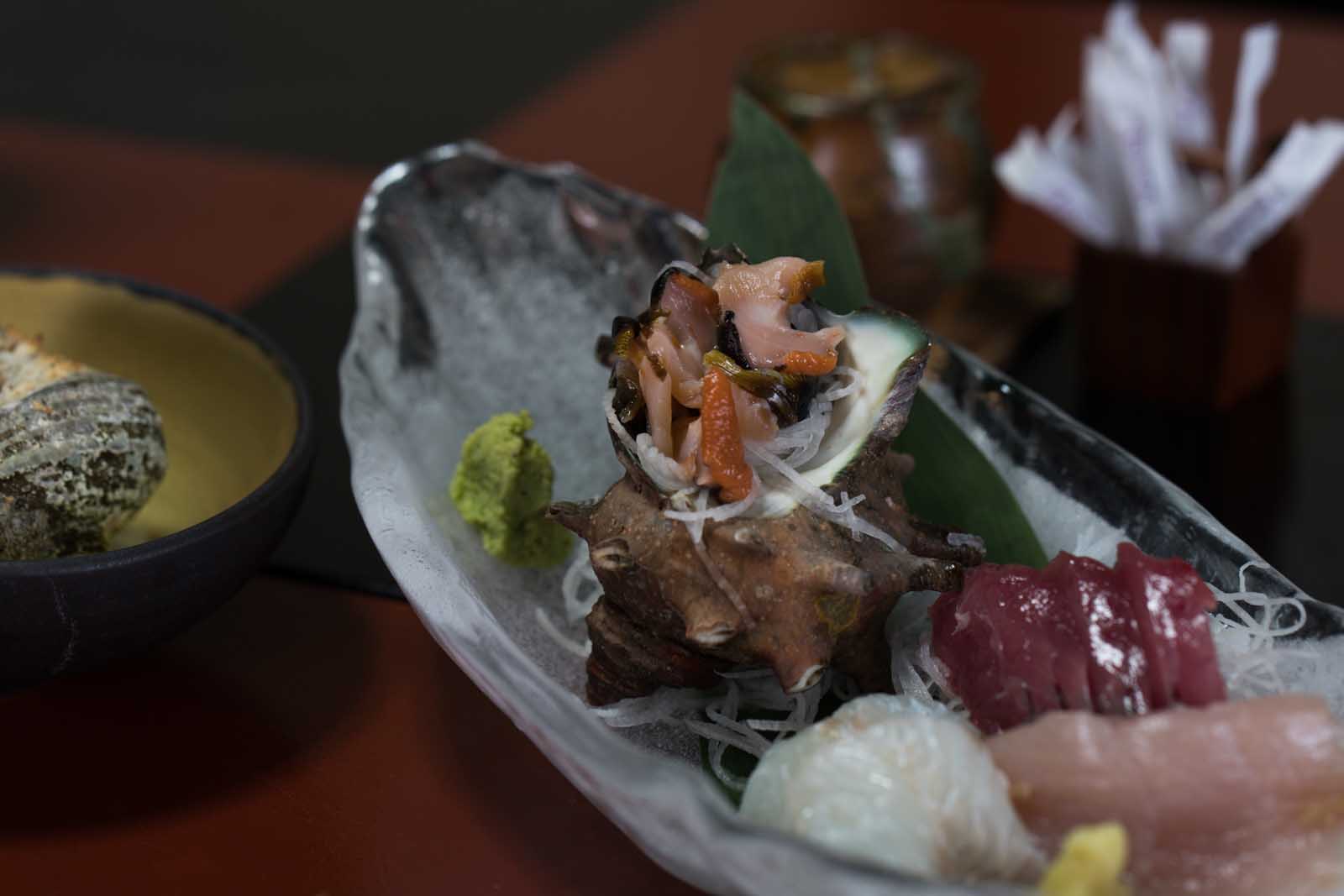 Bonito(of course), huge Turban Shell and fresh tuna sashimi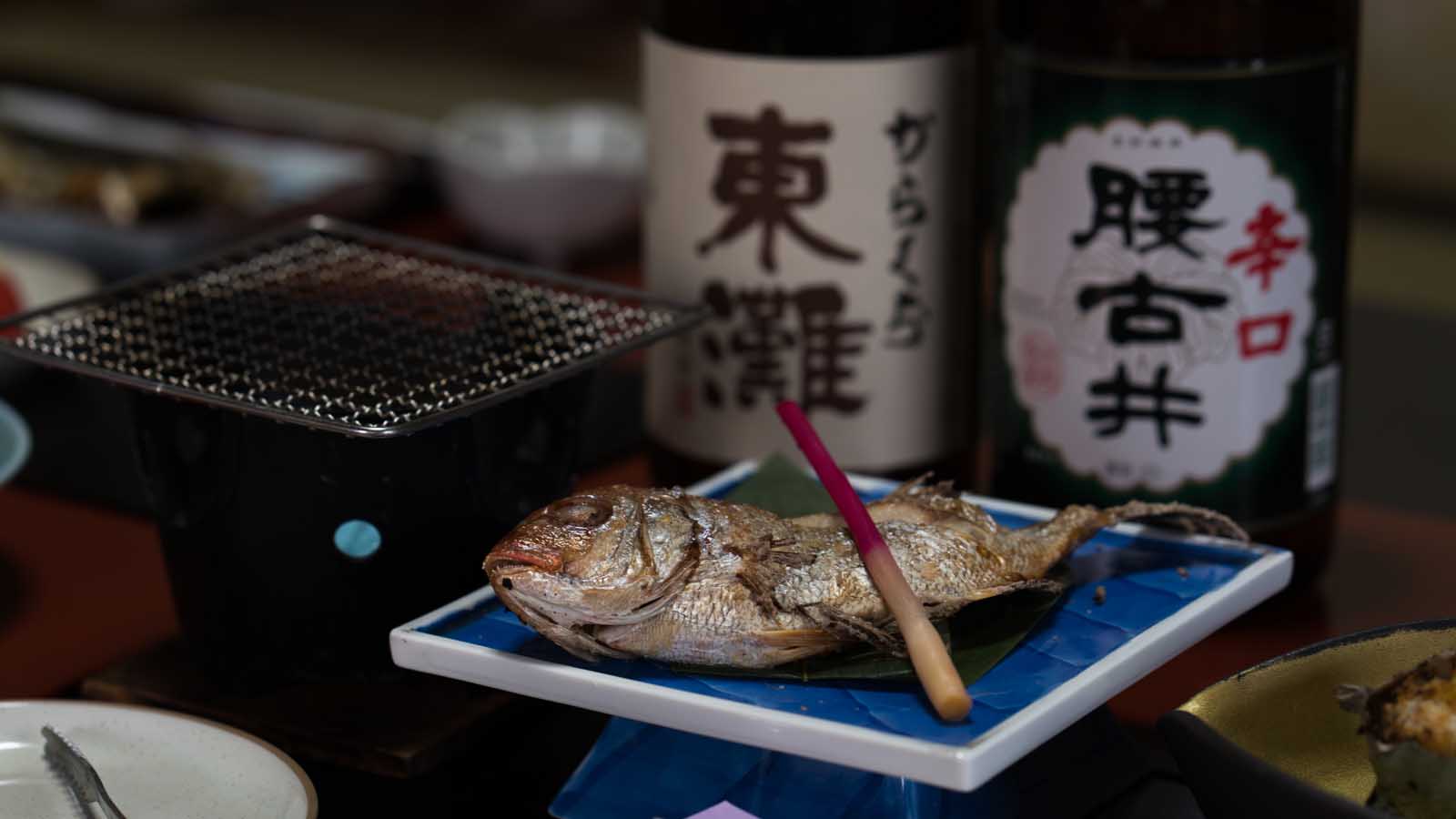 Grilled local red snapper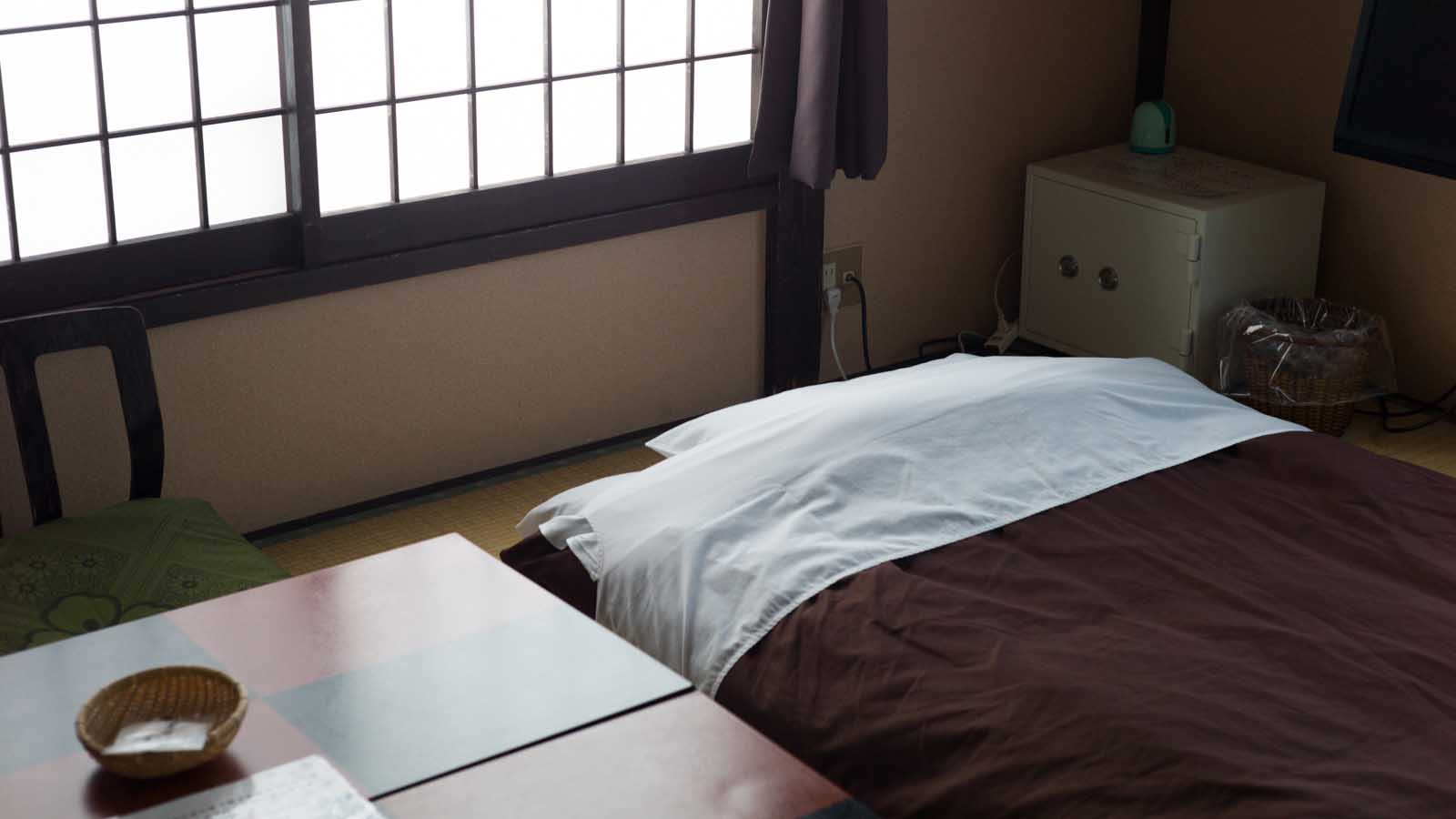 Friendly staff makes your bed on tatami after dinner.
The guesthouse features the old wing and a newly built new wing at the back. To keep its status as a tangible cultural property, major refurbishments are not allowed, including the installment of toilets and bathrooms inside guests' rooms, and guests will need to use the ones on the corridor.
The new wind is slightly newer, its rooms still feel antique but feature these facilities, the choice is yours, I would go for the old wing!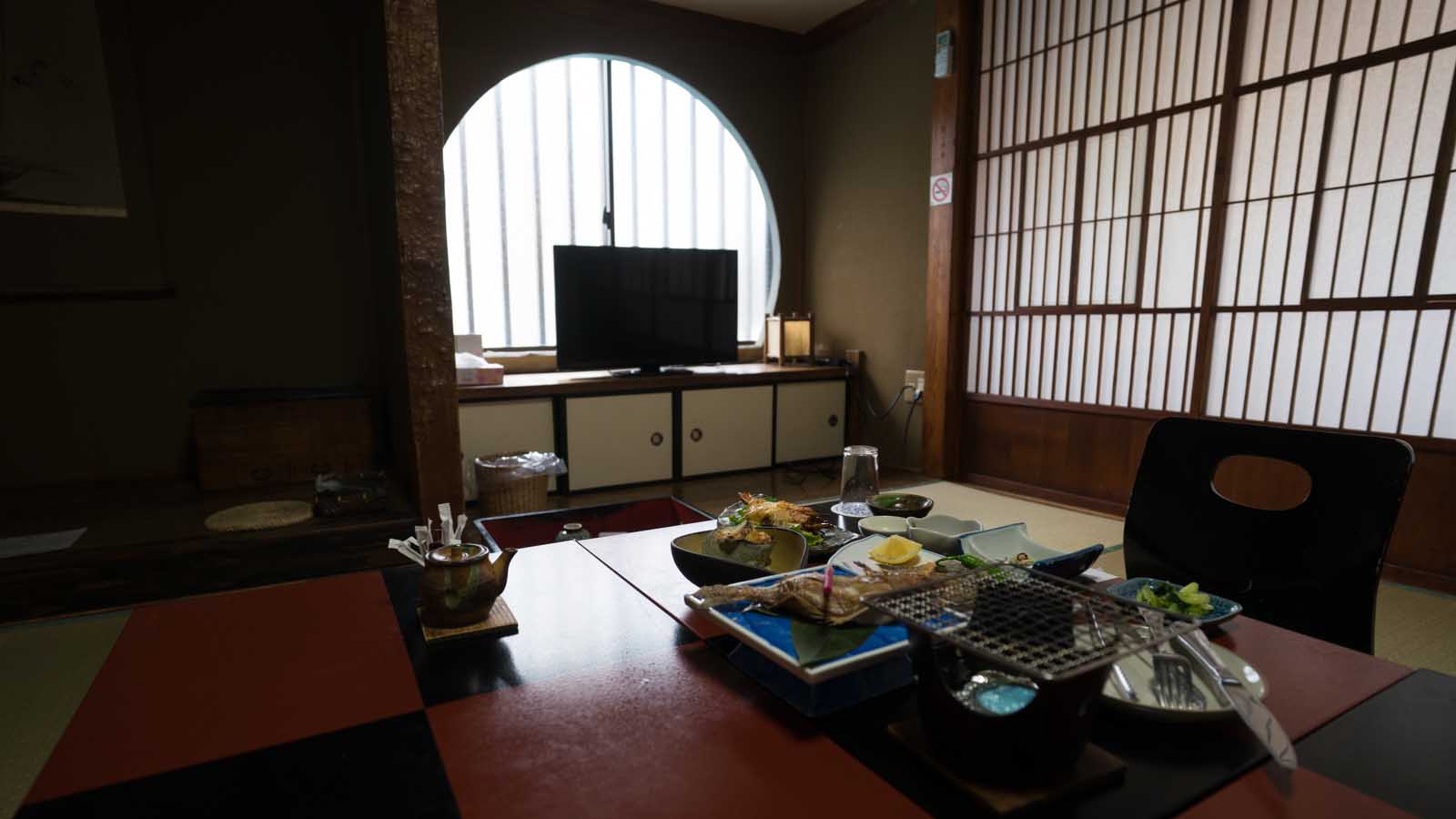 A room of the old wing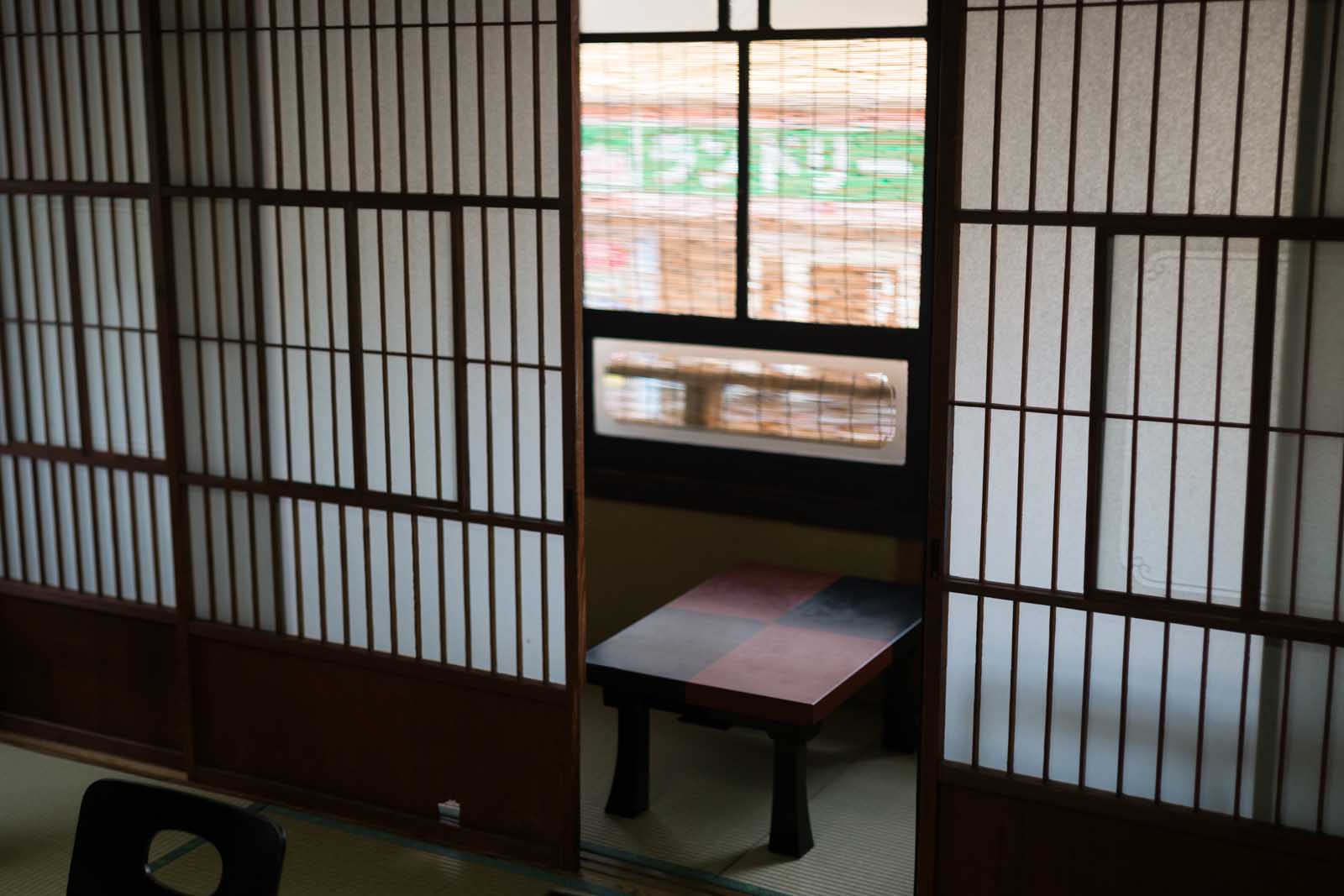 Spacious inlet behind the dormitory to rest and enjoy tea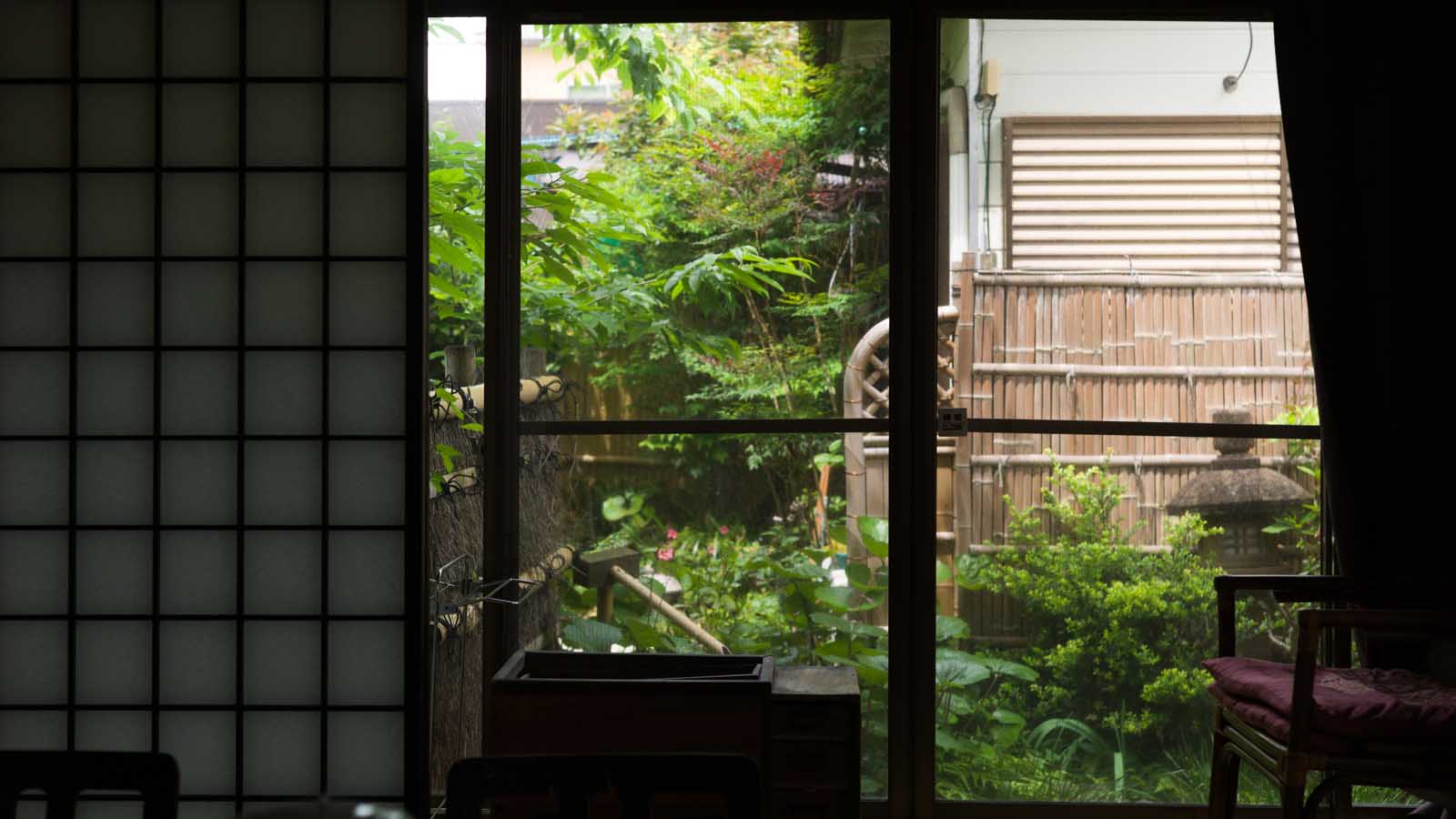 Beautiful Japanese Garden outside a room of the new wing.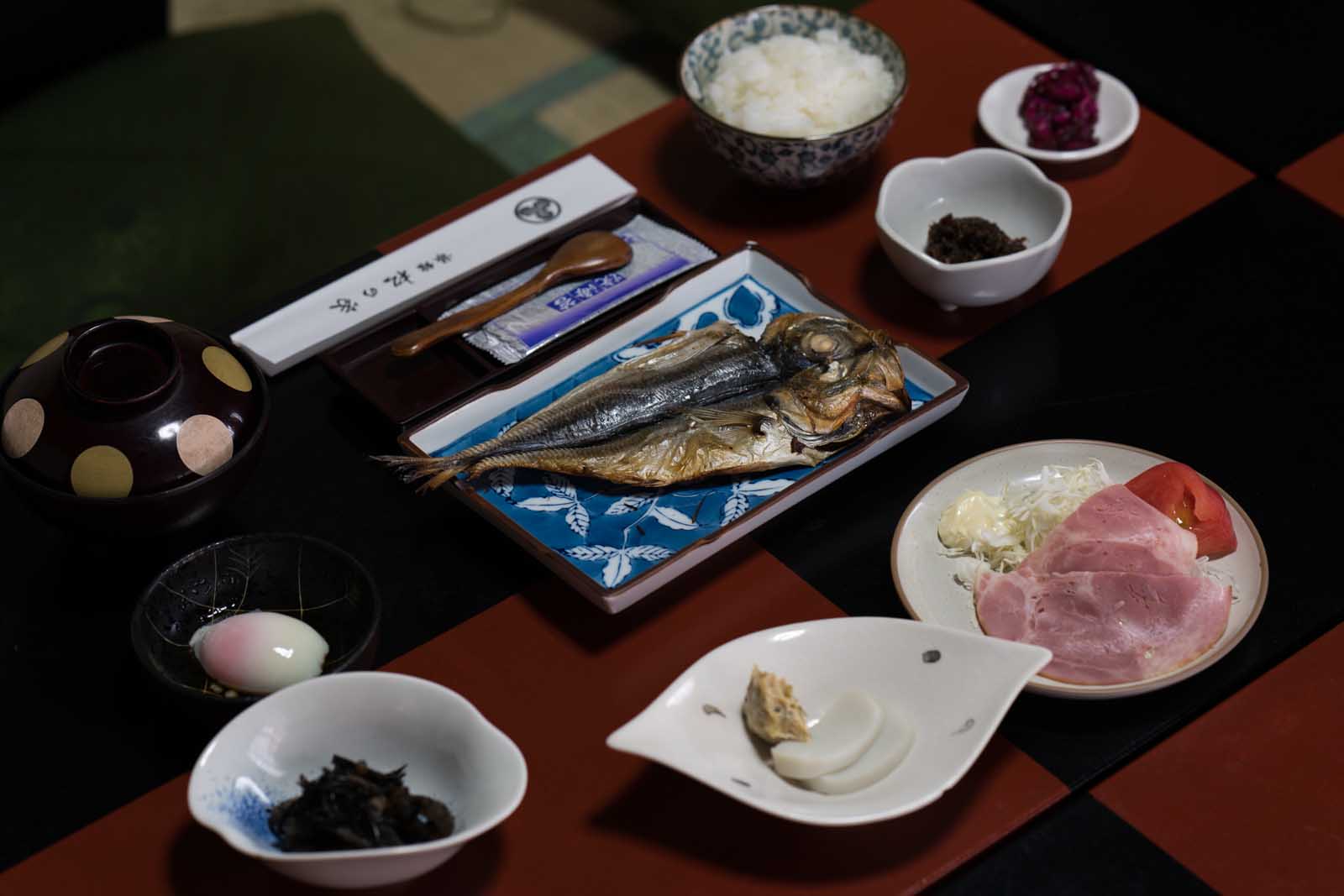 Breakfasts features grilled half-dried fish which is another specialty here, this is horse mackerel, purely Japanese style breakfast is my favorite breakfast.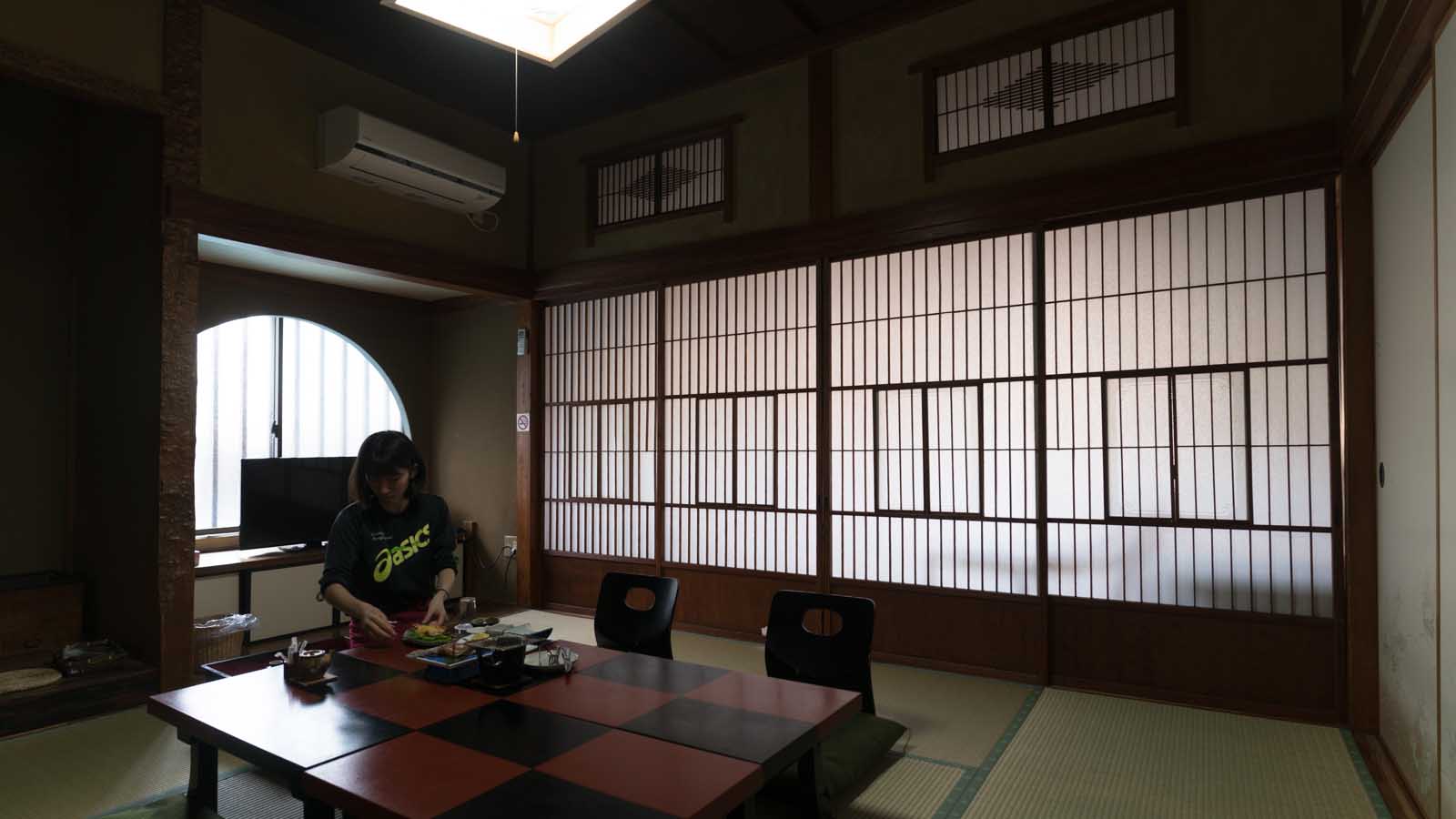 While Japan:s population gradually shrinks, it is getting harder to hire young people to help with bust guesthouse work. While grilling our Abalone, the owner's wife, now in her 70's, talks about their determination to find the best and energetic people to maintain the guesthouse:s quality of services, as they believe this is what guesthouses are meant to be.
The young girl is a student from the nearby university of martial arts, energetic and cheerful, she tells that university scores, together with salaries, can be earned by working in local businesses, a pact formed between the town and local educational institutes to boost local economy and preserve local culture.
------------------------------
Location:
【Guesthouse Matsunoya】(Matsunoya)
30, Katsuura, Chiba, JAPAN
------------------------------

Kappy Visitor Center 【KAPPY ビジターセンター】
Katsuura is not just a food town but a quiet fishermens' town with spectacular view and warm people, one of the perfect short breaks from Tokyo if you are tired of busy streets!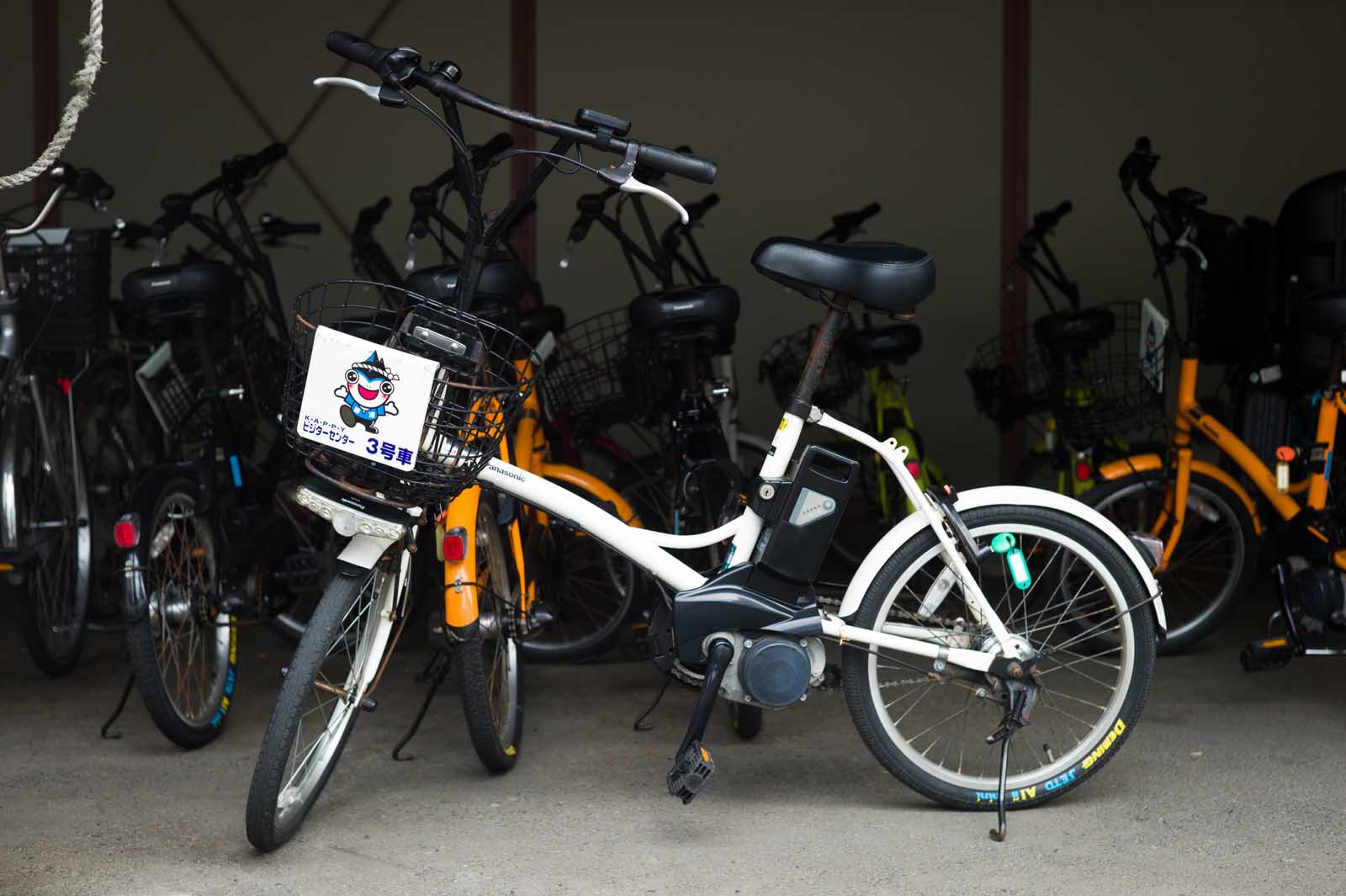 I wanted to do a bicycle trip... The Kappy Visitor Centre rents out bicycles with electric assist, for 1000JPY per day, just drop by and they will be happy to help.
------------------------------
Location:
Kappy Visitor Center 【KAPPY ビジターセンター】
815-56 Tona, Katsuura, Katsuura, JAPAN
------------------------------